Last weekend, it was my father's birthday. We were at Disney World. I thought about him, a lot.
When I was a little bit older than Emilia, my dad's stepfather died. I remember it well, because we had just arrived back from a trip to Disneyland, and as I watched my father mourn and observed his sadness and contemplated its relevance to me – my parents would die someday, too – I decided: when my parents died, I would go to Disneyland. I would go to Disneyland and I would ride the teacups and spin and spin and spin and laugh and laugh and laugh, just as we had just weeks earlier, and the sadness wouldn't hurt me because I would be too happy and it would all be fine.
As the days and weeks and months and years passed, I lost my conviction in the healing power of Disney. There was nothing, I realized, that would mitigate the terrible sadness that would come if I lost my parents. I would be shattered, I knew. Disney would not help me.
It didn't help me this past weekend. It didn't help me – or so I thought, for a passing moment. As I quietly reflected upon the loss of my dad and upon his birthday, and upon how we threw him a sort of birthday party when he died, with a cake at the beach and everything, and how that was awesome for the kids, because it gave them an opportunity to associate their lost grandpa with joy rather than sadness… as I reflected upon that, upon the great gift that that was, to let my children focus on happiness rather than grief, I changed my mind. Disney had helped me, as would any happy place have helped, as did the happy place we made of my father's memorial – by making my children happy, by making happiness the defining experience for them in the time of my grief, such that my own sadness would not so deeply touch them, and so that their joy could expand to envelope me, such that my own sadness was soothed, a little.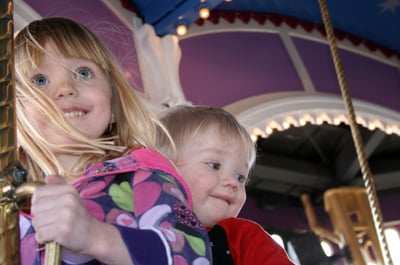 And for that, I am deeply, humbly grateful. To my children, and to Mickey and Buzz Lightyear and the princesses and the gang, and to every force out there that promotes happiness, whether than happiness comes with tiaras and fireworks and spinning teacups or with cake and balloons or with sunshine and birdsong or with prayer or meditation or running like the wind or with just being in joy.
Thank you.