This is the season for the gift list, for the shopping guide, for the letter to Santa. It's the season to drop hints about what we want, and to take hints – or, if you're Emilia, direct and specific requests like I WANT AN ARIEL BATH TOY THE ONE WITH THE HAIR THAT CHANGES COLOR WHEN YOU WASH IT MAKE SURE YOU TELL SANTA OKAY? – from others and to think about how nice it would be Santa could arrange for spa weekends in Marrakesh.
But as much as I'd love a spa weekend in Marrakesh – and maybe a new camera (*cough*OH-HEY-HONEY*cough*) – I'm pretty happy with the things that have come my way this year. It's been a tough year, but it's also been one of abundance. So I thought that instead of doing a wish list or gift guide here, I'd make a list of my favorite things, the material treasures (the spiritual ones are another post entirely) that came my way this year.
This is not an exhaustive list, and it's in no particular order, and some of it is banal and some of it is sacred but I believe that all that stuff is best appreciated when it all lives together, so:
1.) My iPhone. I know, I know: it's practically a cliche to love one's iPhone. But I do love mine. A lot. (My husband loves his equally much. I'd leave you for this, he told me the other week. I'm glad that I don't have to, though. I think that he was joking.) If you have one, you know what I'm talking about. If you don't, well, I'm not going to be able to explain it to you other than to prattle something incoherent about ohmygod soawesome lovelovelovelove, so.
2.)* The DVD of the movie Up. Because.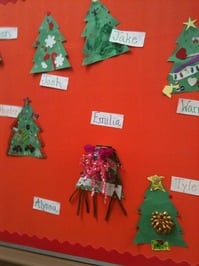 3.)* The Dread Crew, an awesome book by my friend Kate Inglis. Because.
4.) Every piece of art that my kids have created this year. I frame some of it, some of it goes on the fridge, some of it gets tucked into treasure boxes, some of it gets sent to Grandma or Nana, all of it is cherished. We'll be drowning in paper by sometime mid-February 2010.
5.) My Natura Sleep Envelope. It's a well-documented fact that I have not slept in an eternity. The Sleep
Envelope is a soft, organic, bedding-system of awesomeness – a
mattress-topper, quilt and pillows – that envelopes you (get it?) in
its snuggliness and it
is entirely responsible for the fact that the very little sleep I
do get is about as good it as it could possibly get.
6.)* My Wubby. My wubby is actually a black Little Giraffe chenille throw (it was in a gift bag that I received when I won this award).
I wrap it around me while I'm working, I wrap it around me while I'm
reading, I wrap it around me when I'm curling up to try to sleep, I
wrap it around me when I'm doing anything that can be made better by a
little wubbiness. And I don't share it with my kids. It's MINE.
7.) My dad's hat. Because it still smells like him, and because whenever I look at it it's like he's right there. And I think that he is.
8.) The soundtrack to Glee, parts 1 and 2 and also their cover of Last Christmas. Because they remind me of what it felt like to be young and full of Broadway ambitions and Fame-addled dreams. And because when my little girl dance to the Glee version of Don't Stop Believin', the whole world stops and there is only her joy and I am happier than any human has any right to be.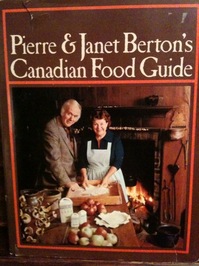 10.) The Pioneer Woman Cooks cookbook. Because, well: cinnamon buns. CINNAMON BUNS. I'm still trying to figure out how to make them.
11.) My Pierre Berton cookbook, discovered and purchased in a St. Vincent de Paul thrift store this spring. The words 'Pierre Berton' and 'cookbook' and 'thriftstore' strung together will probably seem unremarkable to
anyone who isn't Canadian – to anyone, perhaps, who isn't specifically a total geek
Canadian who collects vintage cookbooks and loves Canadian history and haunts thrifts stores –
but to me, this cookbook is awesomeness squared. Pierre Berton
isn't a cook, but that didn't stop him from putting together – well,
having his wife put together – the definitive history of Canadian
cuisine, complete with recipes for beer nog and sugar pie. You heard me. BEER NOG.
12.) A sheet of paper with a photocopied passage from Letter 8 of Ranier Maria Rilke's Letters to a Young Poet. I found it in my father's workbag after he died. It was like a message sent to me, from him, straight from heaven.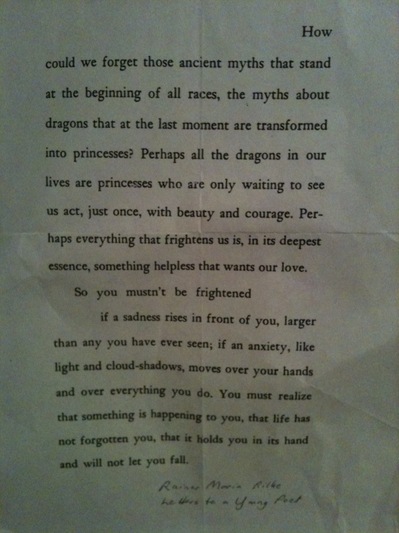 Yeah. It could not be more valuable to me if it were etched on platinum.
All of these things are valuable to me. Some more than others, obviously – my dad's hat would be grabbed before the Wubby in the event of fire, for example, the iPhone before the Up DVD, the kids' artwork before the Pioneer Woman's cookbook (the Dread Crew and the Pierre Berton cookbook would be an agonizing call, if I could only carry one) – and some others that I haven't listed here (my dad's rosary, the What Would Jesus Wear paper doll magnet set, the hand-bound book of my paternal great-grandmother's poetry, Jasper's cowboy boots, the owl tattoo that I got to commemorate my dad, the Kirtsy book that I contributed to – I really should do another list, shouldn't I? – the fern that my dad sent me for my birthday this year, my Spanx) but this list more or less captures the spirit of the abundance that I've enjoyed. None of which could replace all the love in my life – my family, my friends, my work, my play – but all of which I am grateful for. So grateful.
I hope that this year was abundant for you, too – whatever that means for you. I hope that whatever stuff you welcomed into your life made you happy. And I hope that next year brings the same. Happy Holidays.
*(Because the FTC says I should, I've put an asterix next to those items that I didn't purchase myself.)