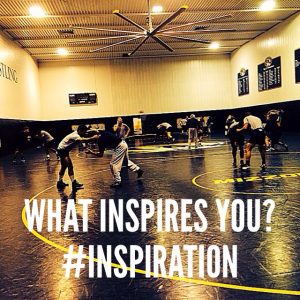 This picture is from my personal cell phone on a day when I went back to the Mizzou (University of Missouri) Wrestling room for practice. The reason it is significant is because of WHAT Mizzou wrestling means to me, and what it represents in my life.
This Mizzou wrestling room is where I truly became a man.  Between these four walls, I have felt emotions ranging from total and complete bliss to agony, anger, and sadness.  But the thousands of hours in this pressure cooker is what I am most thankful for.  It reminds me of how hard I have worked and why I deserve great things.  It also inspires me to see all these young men working their tails off trying to chase what I was chasing!
The question I have is – what inspires you?  Where can you draw true inspiration from and how can you insert yourself into that situation so that the inspiration you experience can fuel your success?
I go back to this wrestling room numerous times a year just to hit the "reset button" and to get that reminder of who I truly am.  Inspiration is out there and all around us, but you can't wait for it to land on your doorstep.
We all know which situations, places, people, and roles get us fired up about the lives we are living.  Places and people that remind us how great we can be and how much potential we still have inside of us. Start today by being proactive about getting yourself around those situations.
Go out and actively pursue them…your goals depend on it!