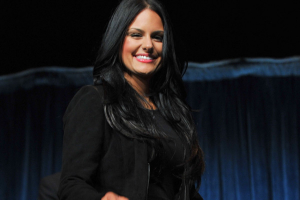 Last week was a big week for Pia Toscano.  It began with a strong performance on American Idol, which many thought was one of the strongest of the night.  Then things took a turn when she was eliminated from the show, requiring brief medical attention after the shock of the announcement.  She didn't stay down for long though, as it appears she may have already inked a record deal!
If it comes to fruition, the deal would be with Interscope Records and Pia would begin recording immediately so that her album will be finished by the time the top 12 of Idol hit the road.  You may remember that Interscope is the company of Jimmy Iovine, whose weekly appearances on Idol as an "adviser" have brought a new dimension to the show.  In past years Idol has worked with Sony records, but this year Idol turned to Interscope instead.
The record company has been heavily involved with the show and that tight relationship has certainly paid off for those exiting.  Early-exit and crowd favorite Chris Medina has already released a single through the record label.  In past years it has taken too long for many of the ousted Idols to get new music out, but Chris' success shows that we may be hearing from Pia Toscano sooner rather than later.
Related – American Idol Top 9 Recap