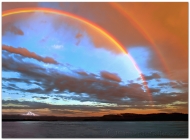 Today we buried my brother-in-law, Henri Blits. It was a small, private Jewish service with an Air Force honor guard and loving tributes from his nieces and nephews, Rick and myself.
Henri was 61 years old. He passed from this earth on Saturday, after a very short battle with pancreatic cancer. He was diagnosed in mid-July, and the cancer was exceptionally aggressive, non-operable and non-responsive to his initial chemo treatment.
We said our goodbyes last week, with our last visit with him on the day he died. He was in intense pain and in a morphine cloud, but he knew we were there and we were able to pray with him and tell him we loved him.
My children can't remember life without him. He was a part of our family for over thirty years, bringing hugs, laughter, generosity and a love of life that few possess. He will be greatly missed.
It has surely made me think about this life, and how much we all take for granted that we will be able to live long, healthy lives and eventually fade away at a ripe old age, revered and respected by our children, grandchildren, great-grandchildren, etc… We actually expect this to be our lot–even in some respects treat it as a right and are highly incensed when things don't turn out that way. We not only expect it for ourselves, we expect it for everyone we know and love as well, and sometimes we act as if God owes it to us.
I can't find any scripture to back up this expectation. God never promised any of us that we could expect to live beyond today. Jesus said as much in Matthew 6: 25, 27:
"Therefore I tell you, do not worry about your life, what you will eat or drink; or about your body, what you will wear. Is not life more important than food, and the body more important than clothes?
Who of you by worrying can add a single hour to his life?"
We are instructed in Psalm 90:12 to "realize the brevity of life, so that we may grow in wisdom."
I know in my own life, that I've been guilty of not "numbering my days." I waste a lot of precious time, and, as I get older, I realize this more poignantly. It's so easy to while away hours doing things that aren't really important. I don't mean that every move I make has to be profound, but I do believe that I need to live with purpose, not procrastination.
I don't know how many days I have…but I do know that each day God gives me is to be greeted with thankfulness and a sense of renewal.
Each day is a chance to start over.
Each day brings its own promise and pain.
Each day should be made up of moments when I'm living–not merely existing.
I close with two quotes from Max Lucado about what we treasure:
"When you are in the final days of your life, what will you want? Will you hug that college degree in the walnut frame? Will you ask to be carried to the garage so you can sit in your car? Will you find comfort in rereading your financial statement? Of course not. What will matter then will be people. If relationships will matter most then, shouldn't they matter most now?"
"If today were your last, would you do what you're doing? Or would you love more, give more, forgive more? Then do so! Forgive and give as if it were your last opportunity. Love like there's no tomorrow, and if tomorrow comes, love again."