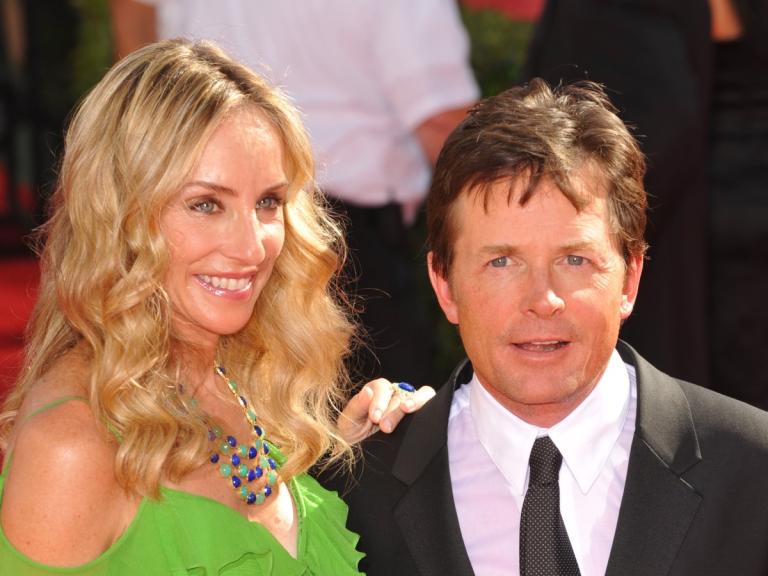 Actor Michael J. Fox recently gushed about his wife, Tracy Pollan, saying she "gives our family everything we need." At the SXSW premiere of his film, "Still: a Michael J. Fox Movie," Fox told People Magazine, "Any good in our family, anything good that we do, comes from her. "
Pollan added that she thinks listening to each other and knowing when to give your spouse space has helped make their 34-year marriage last. She said, "I think we really listen to each other; we are there for each other when we need each other. And then we also give each other space when that's needed. Just feeling off of what's needed at the moment and trying to be there. "
Pollan and Fox married in 1988 at the height of his "Back to the Future" fame. They've remained committed to each other through the development of Fox's Parkinson's Disease, which he was diagnosed with at 29. At the Texas festival, Fox said he doesn't have time to feel sorry for himself. He told People, "Pity is a benign form of abuse. I can feel sorry for myself, but I don't have time for that. There is stuff to be learned, so let's do that and move on."
Fox shared a photo of them on the red carpet ahead of the screening, writing on Instagram, "Thank you, Austin! It was an honor to screen our movie STILL @sxsw."
View this post on Instagram
Fox and Pollan met on the TV series "Family Ties" set when Pollan was cast as Fox's love interest. In 2022, the couple reflected on becoming empty-nesters, saying they aren't "heartbroken. "Pollan said, "It's not as empty as you would think when you have four. There's usually somebody home, so there's like a little straggler, usually. But it's fun. We enjoy the stragglers." The couple shares Sam Michael, 33, twins Aquinnah Kathleen and Schuyler Frances, 28, and Esmé Annabelle, 21.
Directed by David Guggenheim, Fox's documentary highlights the actor's "personal and professional triumphs and travails and will explore what happens when an incurable optimist confronts an incurable disease." Fox clarified his director's vision: "David said early on, 'I want to cover Parkinson's, but I don't want to make a movie about Parkinson's.' He made a movie about life. He made a conscientious decision not to make a movie about Parkinson's."
According to the Michael J. Fox Foundation, Parkinson's disease (PD) occurs when brain cells that make dopamine, which coordinates movement, stop working or die. Because PD can cause tremors, slowness, stiffness, and walking and balance problems, it is called a "movement disorder." But constipation, depression, memory problems and other non-movement symptoms also can be part of Parkinson's. PD is a lifelong and progressive disease, so symptoms slowly worsen over time.
Michael J. Fox and Tracy Pollan's marriage has weathered many years and obstacles. According to Pollan, the couple gives each other space while listening to each other. Most couples would agree that balance is critical to a successful relationship and marriage. Hopefully, the couple will stay together for many years to come!