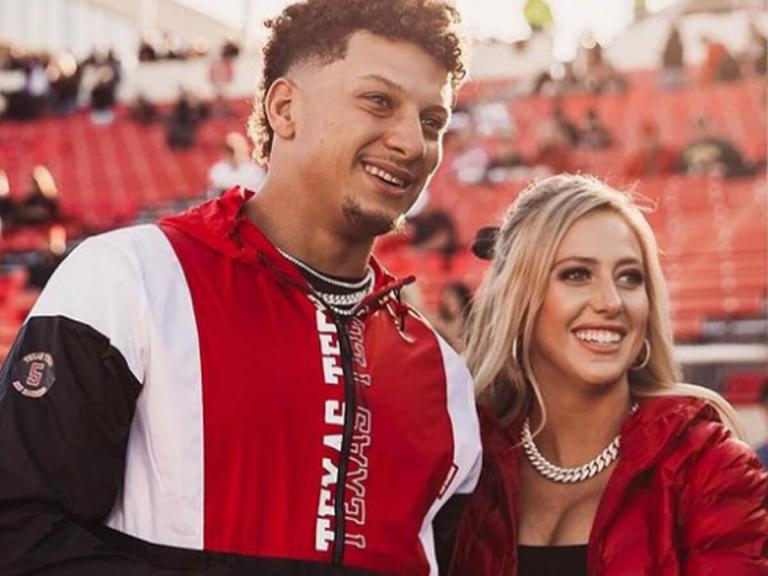 Kansas City Cheifs superstar Patrick Mahomes and his wife Brittany welcome their second child, Patrick "Bronze" Lavon Mahomes III, who is named after the quarterback. Their baby boy was born on November 28 and weighed 7 pounds 8 ounces, the parents wrote on social media. The quarterback, who is named after his father, former baseball pitcher, Pat Mahomes, announced the birth of his son by posting a photo of the baby's feet dressed in a onesie with a necklace below his feet that says "Bronze."
Patrick and Brittany are high school sweethearts who began dating in 2013 while they both attended Whitehouse High School in Texas, Patrick was a sophomore playing football while Brittany was a junior playing soccer. Brittany went on to play soccer at the University of Texas at Tyler and briefly played overseas. As of recently, Brittany has built her brand, "Brittany Lynne Fitness" and has gained a massive following on social media.
The couple announced they were having a baby boy in June, which comes more than a year after the couple welcomed their first child, baby girl Sterling Skye Mahomes, to the world in February of 2021. Earlier this month, Brittany shared a sweet photo of her and Sterling with the caption dedicated to her daughter before the arrival of baby boy. "As we embark on the last several weeks of this baby girl being my only child, I can only think of how thankful I am to be her mama!" she began. "Sterling Skye, you have taught me so much about life. Peace, patience, to be present and truly only spend your time on what matters!" Brittany continued. "You my girl are my everything & I will never take this life with you for granted!"
Congratulations to the Mahomes family!