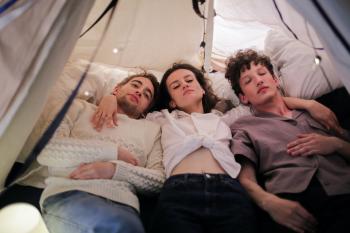 One sex expert claims open relationships are on the rise because couples stuck with each other through the pandemic got bored.
Sex therapist Dr. Tammy Nelson reported there had been a 45 percent spike in the topic being discussed between partners over the last few months.
The pandemic took an undeniable toll on couples, with many unable to maintain their relationships and parted ways as they found out they were either not able to cope with the stress of it all or one partner was no longer willing to put up with the other.
There is a silver lining, however, to this dark cloud as many couples who did manage to stick together through thick and thin found that their relationships became stronger as a result. Some couples needed something a little more foreign to their relationship to pull through.
Dr. Nelson says that couples are now ready to spice up their relationships, and the idea of an additional partner or partners with an open relationship is ideal. What is more surprising is more of the partners are females that are seeking sexual freedom as opposed to men who are usually the ones to suggest something new.
She believes the woman in a relationship is now more demanding than ever and is the one in charge, which is why we see open relationships because women don't want it to stop. Having a one-off affair is usually more appealing to men, where 20 percent of men are more likely to cheat on their partner because for them, it's just about intimacy. For women, it's a combination of sexual and emotional needs, which leads Dr. Nelson to believe that's why women don't want it to stop.
Men will bring up the topic of adding an additional partner to the dynamic because it seems so exciting, but they're usually the first to say they want out of it, while their female partner wants it to be long-term. Dr. Nelson believes that if a woman really wants an open relationship to work, she needs to be very discriminating about who she brings into the fold and make sure both partners are on the same page with expectations.
Open relationships have become more common over the last couple of years and even discussed more in society, where it may have been seen as unacceptable. It's still seen as a taboo topic where most cultures present monogamy as the only way of doing relationships. Non-monogamy can be viewed as a form of cheating and could mean the end of a relationship.
There are a lot of different types of open relationships, which can make it hard to generalize. Some people may think that if their partner is sleeping with someone else, they are automatically in an open relationship. However, this isn't always the case. Some couples may agree to have an open relationship where either partner is allowed to be intimate with other people, while others may decide only to be intimate with other people together. There are also different levels of openness within relationships – some couples may be okay with just kissing and cuddling with other people, while others may be okay with full intercourse. It really depends on the couple and what they are comfortable with.
In the coming years, sex therapists will have to perform a new study to look at couples who opted for an open-relationship post-pandemic and analyze the stability of their relationship. The statistics will show the impacts of open-relationships long term and the toll they take on couples. Only time will tell if these relationships put an even bigger damper on couples or if they really did provide a solution for troubled couples looking to shake things up.