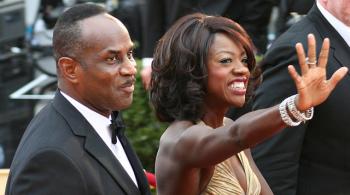 Viola Davis credits the heavens for giving her the perfect husband she got down on her knees and prayed for.
During a recent interview with Oprah, Davis opened up and told the talk-show host how she prayed to meet the man of her dreams. A friend told the award-winning actress that she needed just needed to pray for the kind of man she was looking for. The friend told the actress 'Viola, even the vacuous stuff, just put it all in there. Looks, everything."
Davis thought, "Really? With God? I gotta tell him that?" Davis recalled her friend encouraging her to put it all on the line and put herself out there. Davis says she then got on her knees and spoke to God about the desired qualities she was looking for in a man.
Viola told God she wanted "Someone who may have been an actor who understands the artistic community. Someone who goes to church and loves God. I said, 'If you give me that, I'll start going to church, God. I really will. I'm committed to it. And then I signed off, just like writing a letter."
Davis admitted she also included she wanted a man who already had children because she didn't want the "pressure" of having children. She has been very candid in past interviews, telling women that adopting is just as beautiful as birthing children.
The actress's prayer became a reality just three weeks later when she met Julius Tennon. Tennon is a former football player, actor and accomplished producer. Tennon invited Davis to Church, and the two bonded over their mutual love of the arts and their Christian faith. Initially the actress had some reservations about reaching out to Tennon because she was struggling to adjust to life in California.
The couple married in 2003 and have since started their own production company, JuVee Productions. Davis is a stepmother to Tennon's children from his previous marriage and later adopted daughter Genesis.
Davis tells Genesis that "she was born from my heart, not my belly." The actress is very passionate about adopting and has shared that there are so opportunities to experience motherhood. She has said that she has and is experiencing motherhood to its' full extent and feels she hasn't missed out on anything.
Faith plays a vital in the couple's relationship, not just in personal beliefs but also in the art they create on-screen. Their production company created a documentary based on the tragic 2015 mass shooting at the Emanuel African Methodist Episcopal Church in Charleston, South Carolina. Nine people were gunned down by shooter Dylan Roof during Bible study, Roof was on the warpath to create a race war. Critics called the film beautiful as it captured the grace and pain the families suffered and displayed how forgiveness is ultimately life's greatest weapon.
Marriage is not a walk in the park, and Davis has said that the biggest obstacle she had to overcome was realizing it's not always about her. She had to learn how crucial commitment was and how important her partnership with Tennon was. She has said since her first date with Julius, her life has continued to get better in every way. She overcame her anxiety and her fears with Julius by her side. The couple has collaborated on many projects together through the years, and they continue to push new boundaries in Hollywood. They are passionate about creating a pipeline of opportunities for African Americans in Hollywood, where there is usually an underrepresentation.
Davis and Tennon are a truly inspiring couple that fans can certainly learn a lot from.