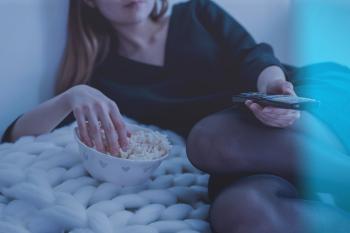 It's a lonely world out there, at least in America.
A new study released from Pew Research Center found that four out of ten adults in the U.S. are living without a spouse or partner. In 1950, for example, only one-in-ten adults lived without a spouse or partner; today, more than one-third of all U.S. adults live alone (38 percent). And the growth in the single population is driven mainly by the decline in marriage among adults at prime working-age (ages 25 to 54).
Pew found that "never-married adults" are more than twice as likely to live without a spouse or partner (49 percent) compared with those who have been married before (24 percent). And men are more likely to be living alone versus women.
Several factors are driving the statistical spikes.
Women are waiting longer to get married.
Women are no longer rushing to the alter in their early 20's. In the U.S., the current average age for getting married is 31. Therapists even recommend getting married between 28 and 32 to reduce the likelihood of divorce but adults in the U.S. couldn't care.
The concept of marriage isn't appealing.
Americans are also starting to question the whole idea of marriage. Younger adults with less attachment to religious communities or institutions are more likely not only to view cohabitation as a viable alternative, but they don't feel the need for legal recognition to validate their relationships.
Widows are opting to stay single.
Widows are choosing to enjoy their newfound freedom. Instead of replacing what they lost, they are choosing to stay single. In many cases, they also feel more comfortable being alone since they have already been there and done that with their deceased partner by their side. Widowhood has become an opportunity to reinvent oneself and try to find a way to be happy again.
Unpartnered adults struggle financially.
Finances play a big part in a relationship, and many adults in the U.S. may feel they are not financially ready for the additional responsibilities. The study from Pew also found that unpartnered or single adults earned less income than partnered adults. They were also less likely to be employed or even have economic independence. The study showed the median income for unmarried or unpartnered adults is $35,000 while partnered men were bringing in $57,000. Unpartnered women were bringing in $32,000 annually compared to the $40,000 or married or partnered women.
Adults are still living at home.
Many millennials and gen z are still living at home with their parents. Which makes it even harder for them to have a romantic partner. Instead of rushing into relationships, they are saving money and building their independence.
For most adults in their 20s and 30s, the spikes are not shocking. They grew up in a completely different era than their grandparents, who grew up in the Ozzie' and Harriet' era. The concept of marriage then was seen as a provider of income for women, and divorce rates in the 1960s were only at 22 percent. Now divorce rates are double that, and women have learned to become more independent.
The economy has also changed as people are now more likely to live with roommates.
Although there is a spike in living alone or unpartnered for more extended periods, divorce rates have gone down over the last couple of years. One could argue that the unpartnered rates could be contributing to the decline in divorce rates. Adults are waiting longer to get married, ensuring they are financially stable and can handle the new responsibilities and all that comes with a marriage commitment, thus reducing the possibility of divorce in the future.