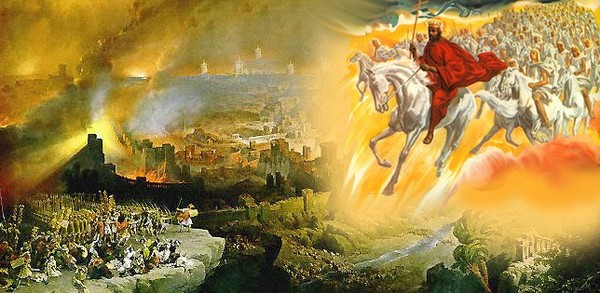 According to a new account, President Bush tried to enlist France's support for the Iraq invasion by telling French President Jacques Chirac that the war would fulfill Biblical end of times prophecies.
"Gog and Magog are at work in the Middle East…. The biblical prophecies are being fulfilled…. This confrontation is willed by God, who wants to use this conflict to erase his people's enemies before a New Age begins."
This is truly an extraordinary accusation. Could it possibly be true? I don't read French so it's hard for me to assess but here's the explanation from James Haught, who is editor of the Charleston (West Virginia) Gazette and a secular website, the Council for Secular Humanism:
After the 2003 call, the puzzled French leader didn't comply with Bush's request. Instead, his staff asked Thomas Romer, a theologian at the University of Lausanne, to analyze the weird appeal. Dr. Romer explained that the Old Testament book of Ezekiel contains two chapters (38 and 39) in which God rages against Gog and Magog, sinister and mysterious forces menacing Israel. Jehovah vows to smite them savagely, to "turn thee back, and put hooks into thy jaws," and slaughter them ruthlessly. In the New Testament, the mystical book of Revelation envisions Gog and Magog gathering nations for battle, "and fire came down from God out of heaven, and devoured them."
In 2007, Dr. Romer recounted Bush's strange behavior in Lausanne University's review, Allez Savoir. A French-language Swiss newspaper, Le Matin Dimanche, printed a sarcastic account titled: "When President George W. Bush Saw the Prophesies of the Bible Coming to Pass." France's La Liberte likewise spoofed it under the headline "A Small Scoop on Bush, Chirac, God, Gog and Magog." But other news media missed the amazing report.
Subsequently, ex-President Chirac confirmed the nutty event in a long interview with French journalist Jean-Claude Maurice, who tells the tale in his new book, Si Vous le Répétez, Je Démentirai (If You Repeat it, I Will Deny), released in March by the publisher Plon.
(Hat tip: Andrew Sullivan)