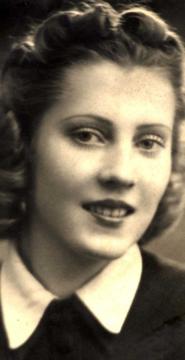 Earlier this week I watched Irena's Vow, a powerful play based on the true story of a Polish woman, Irena Gut, who hid a dozen Jews during the war, including six in the basement of a high-level German officer. A pious Catholic, Gut had seen a mother and baby murdered by the Nazis and made her vow to help save whomever she could. She had to submit to being the German officer's mistress, among other things, to save these lives.

The most famous "righteous gentiles" — Oskar Schindler, Dietrich Bonhoeffer and Raoul Wallenberg — have been Protestants, while much has been written arguing that the
Catholic Church laid the groundwork for anti-semitism
. It's important to highlight the Catholics who helped Jews at tremendous personal risk.
At the end of this performance, the actress who played Irena, Tovah Feldshuh, announced they had a special guest: Irena Gut's daughter. In the course of answering questions from the audience, Gut was asked how old she was when her mother told her the story. Fourteen, the daughter said. Irena had sealed off these memories.
One day, she said, someone called doing a survey for a paper about how the holocaust didn't happen. The caller, according to the daughter, seemed sympathetic to the view. That prompted Irena to unload her story, first to the caller, then to her family — and then to audiences around the world.
I kept thinking about that phone call that triggered her public witness. Coincidence?
Synchronicity?
Or, what my friend SQuire Rushnell calls a
"God wink
"?