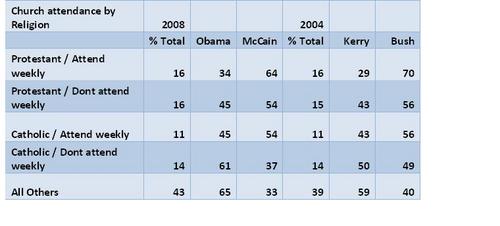 One thing that puzzles me about these numbers: Obama's progress among Catholics is with those who don't attend mass weekly. But among Protestants, he improved among those who do attend weekly.

One possible theory: abortion. Mass-attending Catholics are more likely to care about abortion than those who go less regularly. Protestant weekly attenders, on the other hand, include Mainline Protestants that are not necessarily pro-life.
But that's just a theory. Based on very preliminary exit polls.
UPDATE: The final exit polls changed the story a bit. Obama did make progress among Catholics who attend weekly. He lost 53%-47%. Kerry had lost 56%-43%.