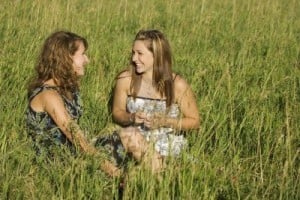 Two of my good friends are also members of Special Gathering, which is a ministry within the mentally challenged community. They are going through extremely difficult times. Last night I spent a good deal of time with them. It was a fun outing; but my purpose was to extend our friendship. Also, I hoped that they'd be willing to share a brief glimpse with me into their pain.
It happened. Several off-handed remarks were passed along by both young women. Mentally, I paused for a few minutes and took note. I wasn't able to be alone with one of the women. But after everyone had been taken home; and we were riding alone in the car, the other one shared openly.
I asked a question, reminding my friend, Lyleth, of the remark she had made. Lyleth jumped in feet first and shared the painful poison residing in her heart. I reminded her of God's promises. She clinched her lips and shook her head. Her silence screamed resistance.
C. S. Lewis wrote, "God whispers to us in our pleasures, speaks in our conscience, but shouts in our pains; it is His megaphone to rouse a deaf world." (C.S.Lewis, The Problem of Pain. New York: Macmillan Publishing Company, 1962, pg 93.) Explaining God's love to a person who is mentally challenged is often less complicated than trying to penetrate the heart of a smarty-pajamas who has life figured out. However, the kind of deep, penetrating grief that these women are experiencing is never easy to explain in logical or Biblical terms.
Yet, the hardship of pain often leaves us mute and disturbed because of our own inadequacy to understand or embrace deep hurts of the past or present. Watching the anguish of my friend as she faces what will be the death of all she truly loves, my heart was wrenched because of my inability to reach out and heal.
After I dropped her off, I went Wal-Mart even though it was after 10PM. I needed to pace and debrief my spirit. I walked for an hour pushing my cart in the security of the lighted building, praying and asking God to release my friends from the uncertainly and pain that the future holds for them.
I came home still uneasy, hurting for my friends whose pain will only increase in the months ahead. However, during the night, God did a wonderful miracle in me. I was able to release them into His care. He is the only one who can heal and bring true growth. His megaphone not only alerts us; but the pain He announces has a wonderful way of teaching, healing and releasing.