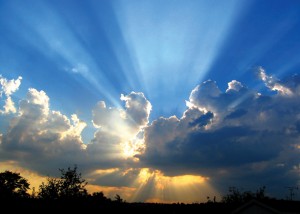 Prayer Reveals God's Power
Psalm 77:12
Central Theme:  God's power works in our lives through prayer.
One Sunday night during a church service, my son said, "Mama, God just healed me."  He had a really bad hernia and while we were in church it disappeared.  God did a miracle for him.  My daughter, broke her arm and the bone was sticking out.  I came home; she was at the neighbor's laying on the bed.  I casually prayed for her arm because she was in so much pain.  We all saw, including our neighbor, God move that bone back in place.  Miracle.  Immediately, I took her to the doctor.  He told us that the arm was not broken.  I could tell you many times I saw God's power move in my life.  I know he is a powerful God and it is good for me to think about the things God has done for me.
                  Have a member read Psalm 77:12.
I.     Tell the story of Elijah and the fire from heaven from I Kings 18:22-39.
A. There had been a drought for three years.
B.  Elijah built an altar and invited the priest of Baal to call fire from heaven.  They prayed all day.  They cut themselves.  Elijah made fun of them and their antics.
C. Then it was Elijah's turn.  Elijah poured water on the altar until the water filled the place for the wood and the water was pouring out. Then he asked God to send fire.  The fire came, consumed the sacrifice and lapped up the water.
II.     Prayer releases God's power to do miracles in our lives and the lives of others.
A. God does not ever do tricks but miracles.
1.  His purpose is to change lives and to help people come to him as lord and savior.
2.  His purpose is to strengthen your faith and your growth in him.
3.  No one ever denied Jesus did miracles, they just said that those miracles were from the devil.
Conclusion  The miracles of God are to help people know God's power so that they can know God.