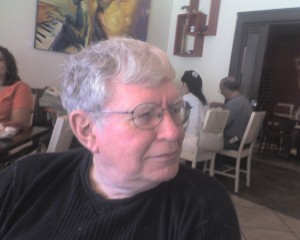 One year ago today, my husband came home from the skilled nursing center to die. While I often say that I don't live in denial, I had no idea that three months later, he would be dead. For about a week, the nursing center had been telling me that I could not take care of him if I took him home; but I knew that I would not do heroics regarding his care. Additionally, he greatly desired to come home. I had been preparing financially for his care for years and we were ready to take on this monetary responsibility.
For two decades, I've observed families living with people who have disabilities and I've learned a great deal from their wisdom and mistakes. Yet, I was struck a month later when I realized that my husband's Hospice diagnoses had changed from "late-term dementia" to "adult failure to thrive." Simply speaking, this means that my husband was in the dying process.
As I remember the day he came home, so many things flood my mind. Here are some things I learned.
He was constantly falling in and out of reality. It became my job to remind him where he was and who was taking care of him which greatly relieved his anxiety. As each caregiver entered his room, I tried to reintroduce them. "Frank, Terry is here. Remember she is here to take care of you today while I'm going to work."
I learned to leave him alone because that was his desire. Additionally, he was no long about to respond. I had no idea how much he understood; and I was concerned that when there were distractions he knew more about his atmosphere than we thought.

He slept most of the day; and he no longer wanted the TV set playing. Frank had always wanted the TV on constantly. Now it disturbed him. This was my cue that he no longer needed or desired distractions.
I'd been critical of the nursing care staff who would not get him up each day. However, when he came home, I realized how weak he was. The first day, I got him up early. He sat up for several hours. It was clear that he was totally exhausted beyond anything I'd experienced from him. The next day, I got him up. Again, he sat up for several hours. As I took off his feet props from his wheelchair, I turned to put them out-of-the-way. When I pivoted back, he had slipped and was falling out of his chair. I realized how weak he was. This was his last day to get up.
I realized that his great strength could only keep him alive for so long. I felt that he would continue to live for many more years because he was the strongest person I'd ever met. However, operations, pain and bone cancer had stolen his ability to fight.
I learned that I must be firm with his support staff, especially the doctors and nurses. I had assumed that they would keep me informed. Yet, when I was told that my husband had bone cancer, this information had been kept from me for several months. Additionally, I had not been told that he was in the dying process. When I realized his condition, I made an appointment with the nurse and told her that I could take any information given to me. I would not tolerate not being told my husband's status. From that time, everyone was aware that I needed to be informed. However, I had to be emphatic about my need to know.
I am extremely grateful for the lesson I've learned from the disability community and the heroic family members who have walked "through the valley of death" for years. Again, they have taught me more than I could ever teach them.