by Michelle Demeree
Shelly is a deacon and member at Special Gathering with is a ministry within the mentally challenged community. She is also a writer. She loves to share God's love with others.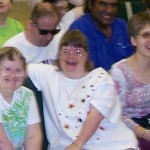 When my grandmother died, I came to know that there is a different kind of love. We have boyfriends and girlfriends; but there is a more real love than this. It is is the love our parents have for us and we have for them.
My father and his mother had a different kind of love for each other.
It was a veyr spiritual relationship. They shared lots of stories. They talked on the phone. They talked iwtn they were together sharing their stories.
She also came to see him because he is sick. She made time to be with him. That is what love is.