Want to Share the Good News?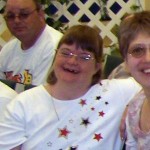 by Michelle Demeree
Ms. Demeree is a member of The Special Gathering. She serves as a deacon and on our Board of Directors. Her passion is writing. Ms. Demeree is a vital part of our ministry.
Do you want to share the good news? We have been celebrating the 25 years that Special Gathering has been here. We have been happy about our group and our friendships.
We come together each week to share God's love with each other.
We all need to be excited about what we have. We should be sharing with people we know that we have a place to learn about God. In this way we can share the Good News of God's love. Where do you learn about God? Why aren't you sharing?