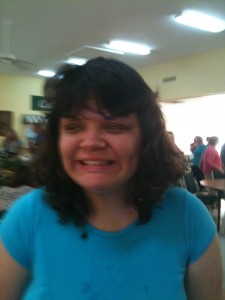 Perhaps the most important thing I have learned from the computer age is the wonderful power of forgiveness. I remember that one of the first things I was told about my computer was "don't worry they are very forgiving." Interestingly, this is also one of the great lessons I've seen in action within the mentally challenged community. My first foray into the world of computers was with an Apple 2E. My husband, Frank, had purchased it and our third-grade daughter, Carol, gave him his first lessons in turning on and using the machine.I had a red IBM Selectric Correcting Typewriter and I was reluctant to let go of my prize machine. Then I got a job with a Christian magazine. I was required to write at least 200 pages each month, in addition to numerous assignments with ridiculous deadlines.
My husband convinced me one night after supper that I should try the word processor. At 2am after completing an unheard of number of pages, I slipped into bed next to Frank and whispered, "I will never use my typewriter again." The thing I loved was that the computer made corrections so simple. You just backspace and, WaLa, all was forgiven.
When I entered into the world of disabilities, I found the same forgiving and loving spirit. Yes, people who are mentally challenged are people like everyone else. However, their life experiences have taught them the great value of forgiveness.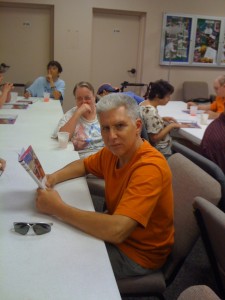 Maybe, it's because their lives are so hard and so filled with missteps that they are grateful to receive forgiveness from others. That is certainly the reason that they enthusiastically embrace the redemptive Christ into their lives and heart.
Maybe it's because they experience so much mistreatment and misunderstanding that they have to forgive more than the rest of us. However, I think the secret lies in what a the parent of a man who is intellectually disabled told me several months ago. We were talking about her family and some of the hurtful things they had done to her. "Why do you continue to have anything to do with them?" I asked.
"Oh, it's too hard to hate and hold unforgiveness," she said, while nonchalantly looking at her fingernails. This dear mother had no idea the great secret of health, mental stability and happiness she had uncovered. "It's so much easier to love than to hate."
My world was shaken. Of course, she was correct but how had she discovered this wonderful promise? I believe that the complexities of a hard life had taught her to seek for easy answers to life's perplexing problems. The mentally challenged community also seems to know the easy nature of love and forgiveness. In the first verse of Psalm 131 David confesses, "I have learned to not try to figure out things that are too high and hard for me."
Perhaps that is the real attraction that people see when they venture into our cloistered sub-culture. Maybe when we slip away from the crowd, there is a deep knowing that rings in our hearts, I'll never be the same person because I have experienced something genuine and deeply moving. I have seen forgiveness walking in flesh and blood and I have seen the easy nature of love.
What have you learned about forgiveness that has changed your life and direction?