At Special Gathering, which is a ministry within the intellectually disabled community, we take our members on an annual retreat called Retreat Agape.  It is located in Vero Beach at Life for Youth Camp.  It is a  youth summer camp but we rent the entire facility for Memorial Day weekend each year.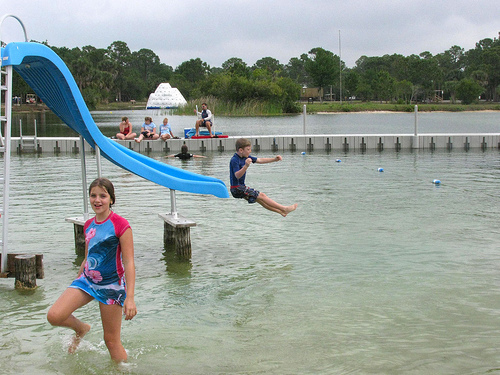 While Retreat Agape  isn't located "in the woods," it is a rustic area and there are bugs.  In fact, it is rural enough for red bugs.  These tiny insects live in secluded, wooded areas; and they invade people who dare to invade their territory.  Red bugs crawl under the skin and cause little red bumps that itch and itch.  Many of our members are not exposed to wooded areas; and they aren't used to these creepy crawlers that cause itchy bumps.  Occasionally, someone will come up to me to announce that they are never coming back because "there are bugs out here and one of them got on me and it's itching me TO DEATH!"
My comment is always, "We are at camp."
In every experience in life there are good things and bad things that happen to us.  Hopefully, the good will out weigh the bad.  Yet, I've learned that most important element in this equation is our attitude.  Like a light shining in the darkness, a good attitude will break the back of a bad attitude everytime, thereby turning even the most awful experiences into joy.
I came from a large family with many in-laws and out-laws.  Funerals were part of my childhood memories.  I remember massive numbers of aunts, uncles and cousins serving our plates from the feast spread over the large dinner table, with desserts spilling into the living room.  The aunts, uncles and cousins balanced their plates and iced tea while roaming outside into the front yard.  We sat under the trees, sharing a meal, family gossip and lots of laughter.  Always, there was laughter.  Even out tears were sprinkled with laughter.
As a child, those times were a lot like having a red bug come to dwell in your skin.  I hated and loved the tickle.  The itch was horrible but scratching the itch was wonderful.
There is no doubt that death is our enemy.  The legacy of  The Garden haunts every moment of our earthly existence.  But the Holy Spirit miraculously works the wonder of scratching the itch, turning that which should be horrible into a wonderfully mysterious experience.
A friend shares that on a recent vacation she met a couple who were as different as soup and walnuts.  The husband was having a marvelous time experiencing all the delights on the resort island where they were staying.  Yet the wife was miserable.  Nothing had gone right for her.  The food was too rich.  The A/C was too cold.  The ocean was too salty, leaving her sticky.  The pool was too warm.  Their room was too elegant and sterile, making her uncomfortable.
The husband seemed to find his wife's complaints and antics mildly amusing and he laughed a lot.  The wife was frustrated by her husband's lack of sensitivity regarding her discomfort.  While the husband didn't appreciate everything that was happening, he had learned to enjoy "scratching the itch. "
Each day and sometime moment by moment, we decide how our life will be lived.  Jesus said, "Blessed (or happy) are the peace maker."  I'm sure that he had also learned to enjoy scratching the itch.   What are some of the ways you have learned to scratch the itch.