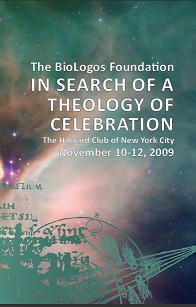 Every Monday, "Science and the Sacred" features an essay from
one of The BioLogos Foundation's co-presidents: Karl Giberson and
Darrel Falk. Today's entry was written by Darrel Falk.
In my last posting I wrote that my greatest joy is being with family and how sentiment extends to the family of God, regardless of how individual members view creation. At that time, I had no idea that two weeks later, I would feel compelled to write again on the same theme. I knew there was a special event coming up, but what I didn't know was the extent to which the feelings I wrote about two weeks ago would be experienced to an even greater degree throughout this event.
I have just returned home from a workshop titled "In Search of a Theology of Celebration." In the history of North American evangelicalism, there has never been a meeting like this. Gathered together at the Harvard Club in New York City were about 55 leading evangelical pastors, theologians, scientists, and other scholars. We were also privileged to have a small number of lay observers, who were especially important in our informal reflections. We spent two days in worship, study, prayer, and fellowship.
The scientists likely all held the position that God has created life in a manner that is consistent with the findings of mainstream science. Many of the others in attendance were not sure what to think, but amazingly–given the schedules of people in leadership positions–they were willing to come from all over the country (and beyond) to spend two days helping us understand the theological and pastoral ramifications of the science which we are so convinced is true. They were so gracious, not just in how they helped to inform us about theology and pastoral care, but especially as they listened to us talk about science. We, the scientists, described the evidence for evolution and attempted to show why it is so important for the Church hear what mainstream biology has to say about creation. They listened, and we were deeply moved by the spirit with which they listened.
The meeting title, "In Search of a Theology of Celebration," reflects the fact that one thing we all have in common is a sense of awe at the beauty of creation. We all want to celebrate. We all worship the same Creator. There is a sense in which looking at nature through the tools of science makes us all a little like the shepherd, David, as he looked out at nature from his Hebrew hillside in the days before he became a king (see Psalm 19, for example). Like him we, three thousand years later, still find that the heavens declare the glory of God. We find that day after day that which we see through our microscopes pours forth speech, and night after night that which we explore with our telescopes displays knowledge. Truly there is no speech or language, no culture or era, where the voice of God, through nature, is not heard. And, just as David went on to say those millennia ago, we still find that, "the precepts of the Lord are right." They do give joy to the heart, and they do evoke a response of praise. Nature, especially as we explore it at the level of sophistication we are able to do today, draws us into worship. Hence, the theme for the workshop: the meeting was a celebration. We began each day in song, in reading Psalms together, and in prayer.
We then proceeded to consider a series of papers that focused on issues like the history of evangelicalism's conflict between faith and science. We discussed the biological data. We considered the barriers which evangelical theologians and parishioners face as they consider the implications of mainstream biology. We talked about how evangelicalism's approach to the science/faith issue has sometimes served as an artificial barrier that blocks some from entering the realm of faith, and we discussed the harm that is done by those who misuse science to try to advance their own atheistic philosophical agenda. Each of the white papers in which the discussion was grounded will go up on the BioLogos website once the papers have been edited and prepared for uploading so you too can think along with us.
As each day came to a close we considered the majesty and beauty of creation as we looked out through the Hubble telescope and we looked in through the marvelous tools that allow us to see the inner machinery of life's smallest structures.
The workshop came to a close with much discussion about next steps. We all acknowledged that it will not be easy and will not come quickly. We all admitted that we weren't sure yet how the evangelical church will eventually be shaped by the findings of 20th and 21st century science. But because of the fact that we are a single family, there was a sense in which it was almost beside the point. We are the church of Jesus Christ. We are bonded in Christ, not in a particular view of how to interpret scientific data, nor even in a particular view of how to interpret Scripture. We are a family. We are brothers and sisters, who live our lives in communication with the same Father. We all want nothing more than for our lives to bring glory to our Father.
The very last thing we did together was to sing a hymn that acknowledges that the Church is not grounded in the fickleness of human frailty. The Church has persevered since those days of its emergence in ancient Israel, not because of human ingenuity, but because it is undergirded by a Foundation with an eternal dimension. I have never heard a richer, more meaningfully sung rendition of "How Firm a Foundation", than the one I heard as the meeting came to a close. As you read three of the verses we sang together, I suggest you read them remembering we are members of a single family. True, this song applies to us as individuals, but as we live the Christian life, we are not meant to live it as individuals who are all alone. We are a family, a family rooted and grounded in a Foundation that will endure. As you read the following words, keep in mind that they poignantly apply to the Family, to the Church, just as they do to us as individuals.
How firm a foundation, ye saints of the Lord,

Is laid for your faith in His excellent Word!

What more can He say than to you He hath said,

You, who to Jesus for refuge have fled?
Fear not, I am with thee, O be not dismayed,

For I am thy God and will still give thee aid;

I'll strengthen and help thee, and cause thee to stand

Upheld by My righteous, omnipotent hand.
The soul that on Jesus has leaned for repose,

I will not, I will not desert to its foes;

That soul, though all hell should endeavor to shake,

I'll never, no never, no never forsake.
After singing this hymn in a firm voice of solidarity, we got ready to leave and we said our good-byes. My final memory in leaving the meeting room is looking across to the other side and seeing a biologist whom I deeply admire and a theologian I hold in the highest esteem warmly bidding one another farewell. The Church will endure not because of articulate words or persuasive arguments. The Church will endure because of what the Church is. It is the Body of Christ united in love. It is the Family of the eternal God.