When I bought a case of wine from Moore Bros., I asked four eight reds and four whites. I told Susan, the helpful consultant, that I strongly preferred bone-dry whites. She slipped a bottle of Riesling into the mix, which made me balk at first, until she explained that Moore Bros. is evangelical about German wines, and that if I think that all Riesling is sweet to sweetish, this will be a nice surprise. Well, okay, we'll see about that.
We drank the rest of the whites, but saved the Riesling — a Rheinhessen Riesling Trocken Weingut Keller 2008, purchased at Moore Bros. for $18.50 — for Pascha. It survived the mid-Lent Spillage of the Borscht (hence the purple-red stain on the label below), and finally emerged from its bottle once Pascha arrived.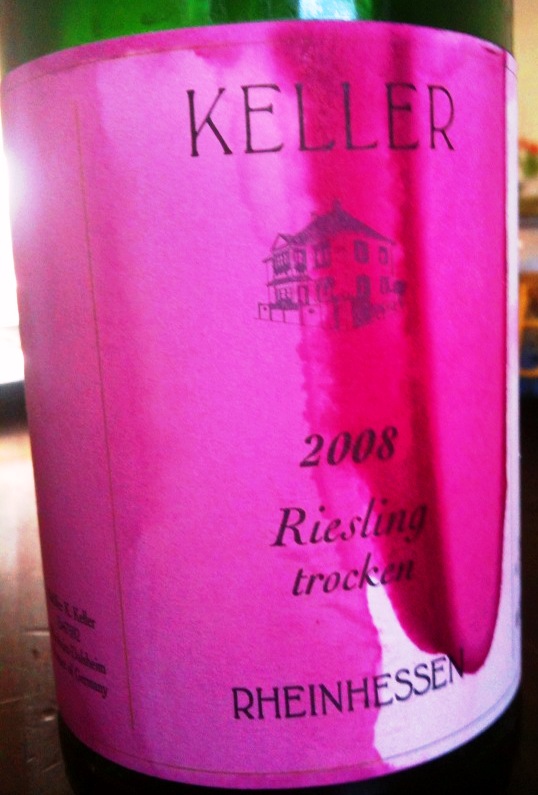 The tasting notes from Moore's advise:
It is hard to imagine a harder-working wine making team than Klaus Keller and his son Klaus-Peter. In the hilly backwoods of the Rheinhessen, source of so much ordinary wine, they are in an elite class of their own. This bright and seamless dry Riesling is full of crystal clear peach fruit, a fine minerality, and restrained sweetness balanced with a very clean underlying acidity.
Readers, this wine was a knockout. This is Riesling?! Unbelievable. It was indeed dry, and peppery, with startling depth and intricacy. Julie and I were astonished by how delicious it was. We always offer Matthew a taste of whatever white wine we've opened (he doesn't care for red), and when he took a sip, his eyes got big and he said, "That is fantastic!" While I wouldn't normally credit the wine opinions of a 10 year old boy, in this case, he was dead accurate. I never, ever would have bought a bottle of Riesling on my own, out of fear of the sugar (plus bad memories, no doubt, of the Zeller Schwarze Katz guzzled in my undergraduate youth). Now I can't wait to add a few more bottles of this 2008 Keller to my stash. And now I realize how wrong I was to have been closed off to German wine.
I keep saying that you need to find a good wine shop and put yourself in the hands of its staff. This wonderful Riesling surprise is a perfect example of why that strategy pays off.