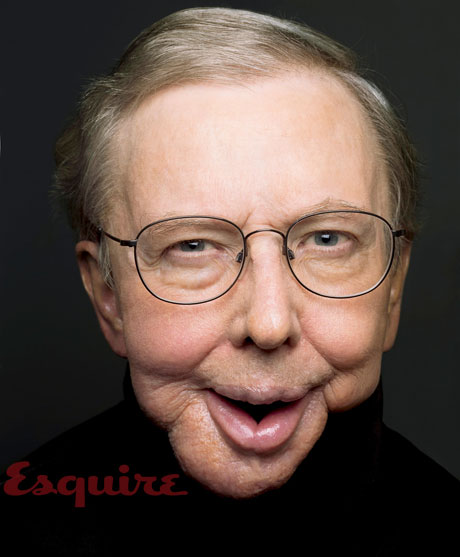 The very moment I got the phone call from Louisiana with the awful news of my sister's cancer, I was preparing a post about this fantastic Esquire article on Roger Ebert's fight with cancer. I dropped everything I was doing and got ready to go to the airport. But do, do, do read the Ebert article; what an extraordinary man he is. Excerpt:
In his dreams, his voice has never left. In his dreams, he can get out everything he didn't get out during his waking hours: the thoughts that get trapped in paperless corners, the jokes he wanted to tell, the nuanced stories he can't quite relate. In his dreams, he yells and chatters and whispers and exclaims. In his dreams, he's never had cancer. In his dreams, he is whole.


These things come to us, they don't come from us, he writes about his cancer, about sickness, on another Post-it note. Dreams come from us.
We have a habit of turning sentimental about celebrities who are struck down — Muhammad Ali, Christopher Reeve — transforming them into mystics; still, it's almost impossible to sit beside Roger Ebert, lifting blue Post-it notes from his silk fingertips, and not feel as though he's become something more than he was. He has those hands. And his wide and expressive eyes, despite everything, are almost always smiling.
There is no need to pity me, he writes on a scrap of paper one afternoon after someone parting looks at him a little sadly. Look how happy I am.
In fact, because he's missing sections of his jaw, and because he's lost some of the engineering behind his face, Ebert can't really do anything but smile. It really does take more muscles to frown, and he doesn't have those muscles anymore. His eyes will water and his face will go red — but if he opens his mouth, his bottom lip will sink most deeply in the middle, pulled down by the weight of his empty chin, and the corners of his upper lip will stay raised, frozen in place. Even when he's really angry, his open smile mutes it: The top half of his face won't match the bottom half, but his smile is what most people will see first, and by instinct they will smile back. The only way Ebert can show someone he's mad is by writing in all caps on a Post-it note or turning up the volume on his speakers. Anger isn't as easy for him as it used to be. Now his anger rarely lasts long enough for him to write it down.