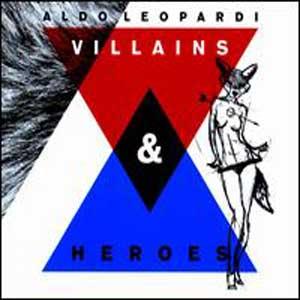 Recently I learned about a terrific singer/songwriter named Aldo Leopardi.
Some background: "Backslash Records has announced the sophomore release of Denver-based modern rock guitarist/singer-songwriter Aldo Leopardi. The Villains & Heroes EP features five original songs by Aldo Leopardi and his band, and was recorded at Backbone Studio in Loveland, Colo. and The Blasting Room in Fort Collins, Colo. The EP was produced by Lee Miles, known for his work with Oh My Stars, Rise Against, Puddle of Mudd and The Red Jumpsuit Apparatus."
Interestingly (and generously) proceeds from the sale of the EP will benefit Paulina's Promise (http://www.paulinaspromise.com/), a Colorado-based charity that raises funds to support the Cardiac Unit at The Children's Hospital in Denver.
How can Leopardi afford to donate all the proceeds? He's also world-renowned for cosmetic dentistry! This is seriously a very thoughtful, talented man that I recently had the pleasure of interviewing.
As for the musical stylings on the new EP, they are best described here: "An innovative mix of alternative and contemporary rock music, Villains & Heroes serves as an artistic vehicle for the angst, inspiration and revelations that Leopardi has experienced in his real life. The recording also captures the high energy and intensity that Aldo Leopardi is known for in his live performances. True to the hard rock party vibe of his concerts, the songs on Villains & Heroes meld sing-along pop sensibility with the intricacies and aggression of high testosterone guitar rock."
And he'd even like to give you an iPad. Check this out: Backslash Records is hosting a contest where fans are invited to submit a video clip for the EP's first single, "My Parade." To enter, contestants create a music video for the song "My Parade," and then upload it to YouTube. The YouTube video link must then be posted at http://www.facebook.com/AldoLeopardiMusic by October 16, 2011 for consideration. Clips from the best entries will be combined to create the official video for the song. In addition, two Grand Prize winners will each receive an iPad2 as a prize. Aldo and his band will judge the top five most viewed videos and choose a Grand Prize winner. A second Grand Prize winner will be handpicked by Aldo based on originality and creativity.
So – go here or to iTunes and grab that song!
Here is my discussion with Aldo Leopardi, I hope you enjoy it – and I also hope you have a chance to check out his music.