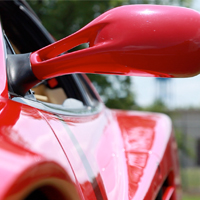 This weekend, Chidlren's HopeChest is selling a 1988 Ferrari Testarossa at the Barrett-Jackson auction in Costa Mesa, CA.
Barrett-Jackson is one the world's largest auctions for collector cars and high end automobiles. Click here to take a look at all the cars on the auction block this weekend.
Tune into the SPEED network at 1:30pm (Pacific Time) to watch live as the Ferrari is sold to the highest bidder. Millions of people will watch on television, online, and in-person as the auction takes place.
How did we get a Ferrari in the first place? It all started when the owner thought his Testarossa could do more than "look pretty and drive fast." Read more of his story…
This 30-second commercial will precede the auction…
All proceeds from the sale of the Ferrari will benefit the Joel Project: a transitional living home in Colorado Springs for teens who have left the foster care system. Visit the Joel Project Web site for more information.