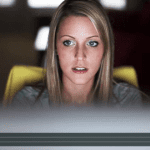 Based on last week's record-breaking Black Friday sales numbers, it looks like we're on our way to an extravagant Christmas season. Retailers took in $7 billion more than last year for a total of $52.4 billion this weekend.
Yet, all those extravagant boxes of earthly treasure are completely empty.
This Christmas, be extravagant for orphans. Give generously to alleviate their suffering. Spend yourself on behalf of the poor. Don't hold back. Join Change Their Story and start raising money today.
Let's show the world what true extravagance really is! That's what I want to do with my Christmas. How about you?
Take a minute to watch this video about how one young woman makes an extravagant decision to give up her Christmas wishes to help an orphan in Africa…
I invite you to become an extravagant giver this year by joining Change Their Story. You are invited to sign up and fundraise for orphans who are starving and girls who are targeted by sex traffickers.
Your family will never be the same.

And if you aren't ready to take that step, then consider making a donation or supporting one of our HopeRaisers. See the full list here.
Thank you for partnering with HopeChest. Together we can make this Christmas an extravagant blessing to orphans who need our support now more than ever before.