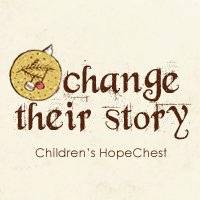 On November 15, 2010, HopeChest launched Change Their Story–a campaign to empower our supporters to raise money from their friends and family during Christmas. Instead of buying more things, 75 families decided to join HopeChest in changing the story for children.
In 45 days, those 75 volunteers raised $52,275.94–exceeding our original $50,000 goal. Each participant chose between three areas of support offered by HopeChest:
Providing Food and Clean Water to Orphans in Africa.
Protecting Girls in Russia from Forced Prostitution through Ministry Centers
Providing for School Fees for Kids in Africa

Over 335 people supported Change Their Story with a gift. Here's how much was contributed to each area of the campaign.
| | |
| --- | --- |
| Category | Total |
| Protecting Girls in Russia | 39,880.23 |
| Providing for School Fees | 1,916.25 |
| Providing Food & Water | 10,479.46 |
| | 52,275.94 |
Even better: this is just what was raised online. We are still receiving gifts sent through the mail, meaning that even more resources are available for orphans.
In 2010, HopeChest received over $4 million in charitable support–the most we have received in our 16-year history.
Praise God for the great things HE has done in 2010, and will continue to do for orphans in 2011.
A great big thank you to everyone who participated in Change Their Story. Here are just a few pictures of what your giving and efforts and advocacy will create in 2011. Thank you!
Click here to subscribe to Red Letters. Click here to follow Tom Davis on Twitter.