The Amazing Race episode 10 recap, November 27, 2011.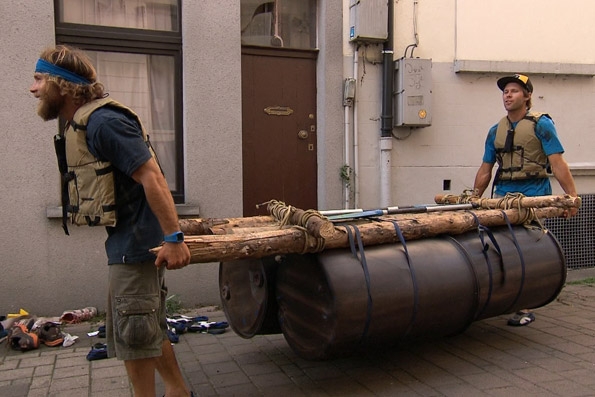 Welcome to the tenth episode of The Amazing Race! Last week ended with a continuing Race with no eliminations as five teams remain in the Race around the world.
After they finish in first place and win a travel prize, Marcus & Amani find out from Phil that "the next leg of the Race starts right now!" Marcus looks surprised to find out that it's only halftime. Hah! They'll drive to the Ford Proving Ground in Lammel, Belgium for their next task.
Ernie & Cindy reach the mat in second place and get a "however…" from Phil. No, it's not about the missing train tickets to Brussels, so they dodged that bullet. Instead, Phil just tells them that the next leg has already begun. Ernie & Cindy stop to get directions; so do Amani & Marcus. Meanwhile, Jeremy & Sandy are the third team to arrive at the mat. Andy & Tommy and Bill & Cathi are still doing the body building judging task and Andy & Tommy finish it first, putting them in fourth place.
At the Ford Proving Grounds, one member of each team will get to test drive a Ford Mustang in the "Master Your Mustang" series of challenges. First, they must speed the Mustang up to 100 miles per hour along a straightaway and then bring it to a quick stop. Then they must navigate a slalom course in 15 seconds or less and finally do a double "victory donut" spin something like you see NASCAR racers do when they win a race. To give them a feel of the car as a passenger, a test driver drives the car around the speed circuit at full speed. Ernie almost looks terrified! "This car's got power!" Ernie completes the straightaway speed and braking task, looking like he's thoroughly enjoying it. At the end, though, the test driver has to tell him to keep braking.
Meanwhile, Bill & Cathi arrive last to the mat, already thinking they're out of the Race. They're pleasantly surprised to find out that they're still racing through another leg.
Back at the Proving Grounds, Ernie tries the slalom and takes it a little too fast going wide on the turns to finish in 16.9 seconds. Having to do this in 15.0 seconds or less, he gets the thumbs down. He tries it a second time and bumps into a test car (actually a large car-shaped balloon) after waiting to brake after the slalom run. "Be safe, please," the test driver tells him. Apparently, he doesn't heed this advice as he says "I must have completed this challenge 15 times" as he keeps bumping into the test balloon after several runs.
Jeremy & Sandy are the next to arrive there while Marcus & Amani seem to have gotten lost and are still asking for directions. Jeremy has no problem doing the speed run and now joins Ernie in the slalom run, where only one car can go at a time. Jeremy does a lot better job of it than Ernie, taking narrower sweeps around the cones, but he finishes his first run in 15.1 second and taps into the test balloon. Ernie (apparently seeing the line Jeremy took) does a much better job in the next run and barely completes the slalom course in time. He does the double donut and gets the next clue. Jeremy completes the slalom course on the second try right behind Ernie and also does the double donut. From the Proving Grounds, teams must then drive to Gent, Belgium to the Hoofdburg bridge there.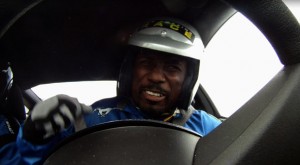 Just as Marcus & Amani reach the Proving Grounds, Andy & Tommy wheel into the parking lot right behind them. Marcus completes the speed challenge with Tommy completing it right behind him. After one failed try, Marcus gets the best time of the day on the slalom course at 13.8 seconds. The instructor tells him to floor it and release the brakes and go full throttle when doing the donuts. No problem, and Marcus & Amani head to Gent in third place, just as last-place team Bill & Cathi arrive.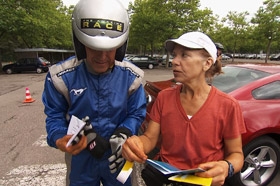 Bill hops in the car and gets a "very nice" comment from his test driving on the straightaway speed challenge. Tommy has just finished the course and they're off to Gent in fourth place. Andy admits to feeling jealous about Tommy having fun driving the car and comments that he "had to ask for forgiveness through Christ and Christ just took that from me and the burden was lifted." With the other teams already gone ahead of them, Bill says "I love it!" as he completes the Proven Grounds test driving.
Ernie & Cindy reach the Hoofdburg bridge in Gent, where the next clue is found inside a barrel. It's a Detour, "Water" or "Waffle". The Water task requires teams to assemble a barrel raft and search for the two halves of their next clue along the waterway. The Waffle task requires teams to assemble a waffle stand and bake and prepare 18 Belgian-style waffles, complete with chocolate and strawberries. Yummy!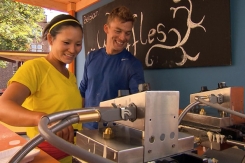 Ernie & Cindy opt for the Waffle task, as do Jeremy & Sandy. Cindy says she's too short when they try to assemble the roof to the stand. She has to climb up to help Ernie, who's holding the roof up while she gets the pillars under the roof. Then they start making waffle mix after watching another guy at a stand do it. Ernie also takes notes of the different kinds of waffles that were made. Jeremy & Sandy complete building their stand pretty quickly and Cindy asks Ernie how they did it so fast. Ernie replies, "I don't know… because they're tall, we're not."
Marcus & Amani arrive at the bridge in third place. It seems Marcus is still woozy from the test drive at the Proving Grounds as he haphazardly parks the car on top of the curb. They pick up their clue and wave to Andy & Tommy just as they arrive. Marcus & Amani see Jeremy & Sandy at their waffle stand and decide to do the Water task with the barrels instead. Andy & Tommy also decide to do the water barrels. Andy & Tommy make quick work of assembling their barrel raft while Marcus is trash talking them. Andy & Tommy hit the water and their raft holds up. They find the first of the two halves of the next clue alongside the canal.
Ernie & Cindy finish preparing their waffles, but get a "No" for quality control. After they inspect their waffle tray, the find out that the only thing wrong is that one strawberry fell off of a waffle into the tray. They put the strawberry in place and get their next clue, running in first place. Having finished the barrel task, Andy & Tommy are not far behind. They walk away from Marcus & Amani, who are still assembling their barrel raft. Jeremy & Sandy don't have it quite right upon first inspection of their waffle stand. They also fail a second quality control inspection and are considering whether to switch tasks after all the work of setting up the waffle stand. Sandy suddenly realizes that two waffles are in the wrong order and then they pass inspection. Bill & Cathi arrive, see the waffle stands and decide to try the barrel task instead.
Following the Water or Waffles Detour, the next stop is De Muur Van Geraardsbergen. Ernie & Cindy are the first to get there and find out what they must do next. Teams will assist a pigeon trainer in releasing a flock of pigeons. Then they will follow the flock of pigeons to where they go to pick up their next clue. They're given a card that reads "Steenweg op Ukkel 75, Beersel" as the destination. After Ernie & Cindy drive off, Andy & Tommy arrive and do the same thing and their card has a different address, "Stoofstraat 52, Beersel". Marcus & Amani and Jeremy & Sandy arrive next at the same time. Their addresses are one each of the first two that were handed out.
Andy & Tommy reach their pigeons' location first. Attached to a pigeon's leg is a stamp-sized picture of the Atomium. a huge structure representing the atomic structure of the iron atom located in Brussels. This is the location of the Pit Stop for this leg of the race. Phil tells us that "the last team to check in here will be eliminated."
Jeremy & Sandy are the second team to reach the address where their pigeons have flown. They're on their way back to Brussels as Ernie & Cindy can't seem to find their way and start getting tense about it. They ask for directions and realize they've lost quite a bit of time, at least half an hour, as it begins to get dark outside.
Meanwhile, Andy & Tommy reach the Atomium and finish in first place, each winning a Ford Mustang! Wow, now they can both go racing around in their own car. Somebody upstairs must have heard Andy's request for forgiveness in being jealous about Tommy being the one to do the driving at the Proving Grounds. Not only that, they can go online and customize their Mustangs to their own taste. Nice prize, best of the season.
Meanwhile, Bill & Cathi are looking for the pigeon release location and seem to get some very convoluted directions. Ernie & Cindy get to where their pigeons have flown, but don't recognize the picture of the Atomium. They ask someone who tells them that they'll need to take the highway to Brussels. It's almost dark when Amani & Marcus reach the same location where their pigeons have flown. Bill & Cathi are still finding their way (or getting lost) somewhere.
Jeremy and Sandy arrive to the Pit Stop in second place. They look both surprised and glad and share a hug. It's already dark when Ernie & Cindy arrive in third. He's glad, she looks exhausted and can't even smile. Marcus & Amani stroll into fourth place. Marcus likens to Race to an NFL conference championship, knocking other teams out of the Race and "it's on to the Super Bowl."
The remaining team Bill & Cathi are still a long way away, 24 kilometers from Brussels. They know they're in last place and will be eliminated, so they already talk about how they've enjoyed the race and they're not ashamed of themselves. "It's been a hoot," he says, "and it's improved Cathi's and my relationship totally." They finally arrive to the mat where Phil tells them that they're the last team to arrive. They smile, taking it gracefully. Phil tells them that they've proven that "age is nothing that will stop you from doing well in the Race." Bill says they'd do it all over again, "same person, same way."
Kudos to Bill & Cathi, who no doubt were a favorite of many viewers this season. Here's a tip of the hat to you two!
Next week, it's a battle for a spot to make the Final Three. Sandy has to face her fear of heights, there are cryptic clues, and Ernie & Cindy find themselves in last place during the leg.
Stay tuned!