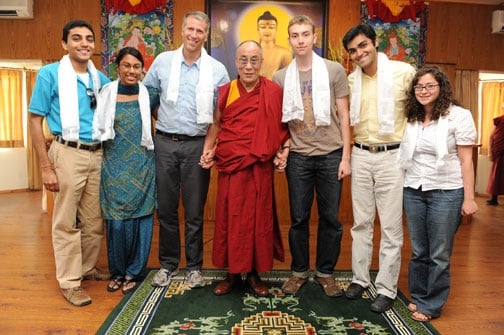 Last
summer a handful of students and I had the chance to meet with HH Dalai Lama in
Dharamsala, India. We spent an hour and a half listening, laughing and
learning his views on inter-faith relations, the meaning of non-violent
resistance and world events. One of the questions asked to HH was: "Will
Tibet's future be changed by the election of Barack Obama?" That
question has been unfortunately answered with a resounding – no! In fact,
America's commitment to Tibet may be worse than under President Bush.
Politico.com reported that President
Obama snubbed HH Dalia Lama this week during the Dalai Lama's visit to
Washington DC. The only thing that can account for it is that this White
House is so afraid of the Chinese and the debt the hold that they are now able
to dictate American foreign policy:
When it comes to the White House's decision not to have President
Barack Obama meet with the Dalai Lama during his visit to Washington this week,
some are seeing an $800 billion elephant in the room.

That, of course, is the amount of U.S. Treasury debt held by the
Chinese government. That makes China the largest foreign holder of U.S. debt,
and the country's willingness to buy more is essential to the ability of the
United States to finance its deficit spending.

And naturally, the Chinese do not want the new American president to
meet with — and lend credibility to — the Dalai Lama, who is a longtime
adversary of the Chinese government.
This week will mark the first time since 1991 that the Dalai Lama has
come to Washington and not met with the U.S. president.
That leads one former Federal Reserve official to suspect that
Chinese fiscal leverage over the American government is at the root of the
decision. "Bottom line," says the official, "don't piss off your
banker."

Rep. Dana Rohrabacher (R-Calif.), a co-chairman of the Congressional
Tibet Caucus, blasted "the administration's unwillingness to meet with an
internationally respected human rights leader in order to placate Chinese
tyrants."


Read how financial
pressures forced Obama to snub HH the Dalai Lama


Towards
the end of our time together HH asked a sincere question: Why will America not
question China's treatment of Tibet and not being able to help myself I said:
"Because we are intimidated!"
Sad but true.