"Not everyone who says to me, 'Lord, Lord,' will enter the kingdom of heaven, but only the one who does the will of my Father who is in heaven. Many will say to me on that day, 'Lord, Lord, did we not prophesy in your name and in your name drive out demons and in your name perform many miracles?' Then I will tell them plainly, 'I never knew you. Away from me, you evildoers!'" (Matthew 7:21-23)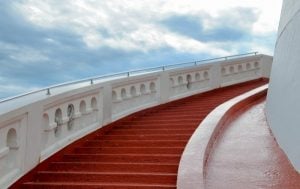 Does God know us? Doesn't He know everything? While He certainly does know everything–He is omniscient, apparently He doesn't know everyone.
The Scripture above is among the scariest of all. Jesus goes on from there to tell us that many who are presently famous in the Christian culture will not be the ones we see honored in heaven. In fact, they are the ones in danger of not even making it through the gates. They themselves will be as flabbergasted as the rest of us.
On the other hand, those who are obscure in our Christian culture, those to whom fame has not been granted, are the ones more likely to be famous in Heaven. It doesn't mean, of course, that every person who enjoys fame in our society is disqualified from honor in Heaven. It just means that being known on earth doesn't necessarily mean we are known by the One who matters most. Being known by God is something altogether different.
I think of my dear friend Diana, a retired special needs educator, who spends her entire morning everyday worshipping God and interceding for those the Lord puts upon her heart. I daresay, God knows her well.
I think of my beloved neighbor Patsy, who gets up long before dawn to pray. She's not a celebrity here, but in Heaven I imagine she is well-known, heeded, and honored. Currently short in stature both literally and figuratively, yet in Heaven, she will be head-and-shoulders taller than most of us.
Who will be featured on God's Red Carpet?
Only those whom He knows. Again, this begs the question: why doesn't God know everybody? Isn't He all-knowing?
You have searched me, Lord,
and you know me…
Search me, God, and know my heart;
test me and know my anxious thoughts. (Psalm 139:1,23)
Perhaps allowing God to know us only happens when we give Him access. David's prayer is an invitation to be known by God. Just like reading Eric Metaxas doesn't make Eric Metaxas know me, studying the Bible helps me know God, but doesn't allow God know to me. For me to get to know Eric Metaxas would require spending time with Eric Metaxas. I would need to be granted access into His life, make an appointment with him, and persevere until enough time was spent in order for him to understand my character, temperament, dreams, hopes, and abilities.
Thank the Lord, allowing God to know me isn't quite as difficult nor logistically challenging. The good news is, we have been granted access to God's presence, any time, any day. His calendar is wide open to us. All we have to do is take time to be quiet before Him and share our heart with a plain and simple prayer, like this one…
My Father,
I feel like I know You because I am aware of Your Word. Though I can recite passages, I am fearfully aware that that doesn't presume intimacy with You.
So I ask You today: please get to know me. I know You are willing, for You make that clear on every page of the Bible:
"Call to me, and I will answer you and tell you great and unsearchable things you do not know" Jeremiah 33:3.
You invitation stands open indefinitely. Today, I want to sit at Your feet and let You know me. I will share my heart with You and ask that You share Yours.
I won't bring my list of things I need or want from You. I just want You to know me.
Teach me to be known by You. As I grow in this understanding, I believe You will enrich my life in ways I never dreamed. Thank You in advance, dear Lord, dear friend.
Amen
Photo on Foter.com