For since the world began, no ear has seen a God like you who works for those who wait for him! (Isaiah 64:4)
Be still in the presence of the Lord and wait patiently for him to act. Don't worry… (Psalm 37:7)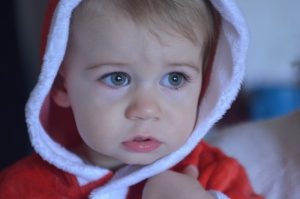 As the youngest of five siblings–the oldest being 13 years older than I–Santa Clause wasn't able to keep the charade going long for a straggler-child like me. I always knew he wasn't real, but I played along just for fun.
My brother and I would be told on Christmas Eve (for that is when we opened our presents) to go upstairs and lie down and wait patiently for Santa Claus to come, for he was sure to come any moment. And he always did come swiftly and leave just as swiftly, as soon as Mom and Dad got everything ready and had a brief reprieve from the noise and activity my brother and I always managed to stir.
We waited obediently, lying on the bed, wondering about all the possibilities. Dolls, skis, dresses… Dolls were my favorite gift, and the smell of a new doll at Christmas remains my favorite fragrance. My parents weren't wealthy; our gifts were humble but relished and enjoyed nonetheless.
We waited quietly for Santa because we trusted in Christmas. We trusted our parents to provide something special, and we always knew we wouldn't be disappointed.
Are you waiting for something this Christmas? Scripture tells us to wait patiently. Lie down and rest while you're waiting. Don't fret, don't worry. I know the need is massive. Some of the situations we face are life-and-death. Shift your focus away from the magnitude of the problem onto the magnitude of your God. What matters is your trust in your God who works on behalf of those who wait.
Want to learn to wait well? Pray this plain and simple prayer.
Father,
Thank You for Your promise that You are working on my behalf as I wait patiently for You. I have prayed, I have surrendered my heart, my life, and this whole situation to You. So, teach me and help me to wait for Your answer.
I know You are working.
I know You are Good.
I know You are God.
I know the promise You have given to me concerning this issue I am facing. I bring that specific promise before You now….
And I will now lie down and rest as I wait patiently for You to act on my behalf. In the meantime, while I rest, work deeply in my heart. Transform me to be more like You. Rid me of all characteristics that don't look like You – free me from all iniquity.
Forgive and cleanse me now as I wait patiently.
Thank you.
Amen.
Photo on Foter.com