Praise the Lord. Praise God our Savior! For each day he carries us in his arms. (Psalm 68:19)
Let the beloved of the Lord rest secure in him, for he shields him all day long, and the one the Lord loves rests between his shoulders. (Deuteronomy 33:12)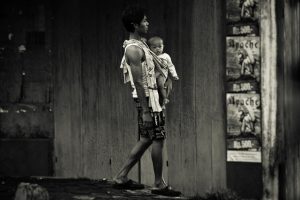 If you are facing a situation that is rendering you helpless and immobilized, these promises are for you. When life smacks us in the face with challenges and painful dilemmas, we can run to our Father, and, like a child, lift our arms up to Him and let Him pick us up and carry us.
Like a Shepherd, He will carry you on His shoulders. I like to picture Him carrying me right next to His heart with His strong arms wrapped around me for comfort and warmth and shelter from the storm.
Are you struck today by bad news and not sure if you can put one foot in front of the other? Let Your heavenly Father carry you…Pray this plain and simple prayer…
Father,
I lift my arms to You today, reaching towards Your love and mercy. As I do, I praise You that You love me, that I am Your child, and that I am not an orphan. I thank You, Papa God, for making Yourself real to me through Jesus. Thank You for Holy Spirit who gives me peace when peace is out of reach. He gives me strength when I am weak. He gives me joy even in the darkest circumstances. He puts a song in my heart at the midnight hour.
Lift me up. Carry me in Your strong arms. Shield me from the onslaught of the enemy who seeks to destroy my life. As I hide in You, I trust You to fight my battles for me. I am outnumbered apart from You.
But with You, I am ready for anything, equal to anything. It is Your strength that equips me, Your power that saves me, Your grace that enables me to move forward.
As Your child, nestled in your arms, I lift up the sword of the Spirit and declare my victory today! For I trust in you to save me. I trust in You to do the impossible. I trust in You!
In Jesus' Name
Amen
Photo by AlexSantosa on Foter.com / CC BY-SA