Who can list the glorious miracles of the Lord? Who can ever praise him enough? (Psalm 106:2)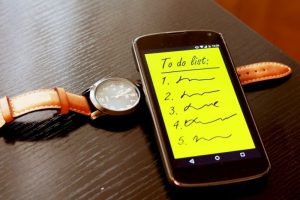 We make lists everyday of to-do's, lists of projects, lists of phone calls to make, lists of errands, and shopping lists. We have lists of goals and objectives, bucket lists, and rainy-day lists.
One list that we might be missing is a gratitude list.
Rather than making a list of what we need or what we want, let's make a list of what we have, and thank God. Psychologists tell us that a grateful heart towards a deserving person strengthens relational bonds.* Over and over in Scripture we see Paul, for example, thanking God for the people he is addressing. I wonder if every person in his life was angelic? I can't help but wonder if some of those folks he was talking to were, at times, undeserving of praise and perhaps downright ugly. Even so, Paul expressed thanks by focusing on the good and downplaying the negative.
Let's start today by making a list of important people in our lives – make it a gratitude list with a quick explanation of one thing you are specifically grateful about each one. It may be that person, through challenge, has made you stronger as you've learned to adapt and appreciate your differences. It may be that person has forced you to grow in your capacity to forgive and extend undeserved grace.
Think of something you can be grateful for about each person, and breathe a prayer of thanks for each one.
Father,
Thank You for the people in my life. Some bring me both joy and sorrow. Some bring me challenge. Some bring me pure delight. Others cause me to grow in patience. Through each one, as iron sharpens iron, you are making me stronger and more worthy of Your love and more worthy of relationships.
Thank You for each one.
In Jesus' Name,
Amen
Photo credit: <a href="http://foter.com/re/cbc2c6″>Foter.com</a>
* https://www.psychologytoday.com/blog/me-you-us/201512/the-power-grateful-heart