He got up, rebuked the wind and said to the waves, "Quiet! Be still!" Then the wind died down and it was completely calm. He said to his disciples, "Why are you so afraid? Do you still have no faith?" They were terrified and asked each other, "Who is this? Even the wind and the waves obey him!" (Mark 4:39-41)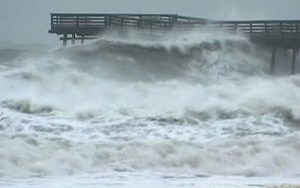 Is Hurricane Harvey a storm that God concocted in His Heavenly laboratory? Is He like a mad scientist creating monstrous disasters to destroy us?
To understand God we simply have to look at Jesus. He is the perfect picture of our invisible God. Jesus was the three-dimensional image of God. Not that He looks exactly like Him in terms of physical characteristics, but that He is like God, acts like Him, responds like Him, talks like Him, and behaves like Him.
Anyone who has seen me has seen the Father. (John 14:9)
The Son is the image of the invisible God, the firstborn over all creation. (Col. 1:15)
During Jesus' three years of ministry, do we see Him whipping up ways to bring disaster upon the earth? Not by any means. On the contrary, we see Him cleaning up the aftermath of Satan's destructive forces by bringing healing, restoration, life from death, and freedom from demonic torture.
Rather than concocting storms to destroy people and things, Jesus calmed storms. He warned that storms – both literal and figurative – would come and that we had better be ready by building our lives on the firmest foundation available to human-kind: on Himself. Then when the storms come, we are prepared, unshaken, with nothing to fear, not even death.
So how do we respond to storms that seek to destroy us? We follow the example Jesus gave us: we talk to them. Jesus used words to create calm out of chaos. And as God used words to create the universe, we can use our words to speak to Harvey with the authority of a believer in Jesus, and command it to calm down.
Imagine if all the believers in Louisiana and Texas were to do this today? If we use our authority in Jesus' Name to speak to storms, if we believe that our faith can move mountains, then our faith can move Harvey as well.
Our plain and simple prayer today is to follow the example of Jesus. He didn't pray about the storm; He spoke directly to the storm. Let's follow in His blessed footsteps:
Harvey: Peace! Be still! Go right back to the sea where you belong. Do not torment the land any longer. Take your fierce winds and your torrential rain, and leave this land in Jesus' Name. Amen!