"Therefore we will not fear, though the earth give way and the mountains fall into the heart of the sea." Psalm 46:2.
Amazed!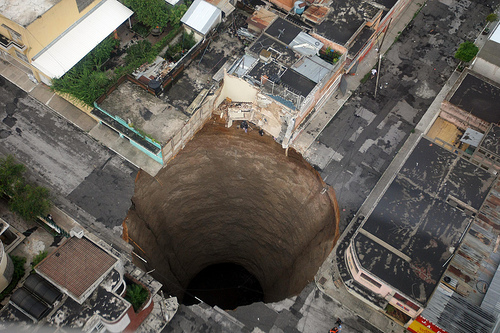 This huge crater in Guatemala City formed after flood waters of tropical storm Agatha eroded soil hundreds of feet underground. The cavern swallowed a three story building which has disappeared without a trace into the bowels of the earth.
The death toll from Tropical Storm Agatha is growing, with 123 reported killed in Guatemala, 17 in Honduras and nine in El Salvador. Another 90 people are missing in Guatemala and another 69 have been injured.
Let's pray for Guatemala as it deals with Agatha and also the effects of the Pacaya volcano, which erupted Thursday night.
"God, we ask for your blessing of peace and protection for the people of Guatemala as they deal with the impact of two natural disasters. Stand with those who have suffered the impact of the storm. Give them strength and health. Comfort those who have lost loved ones and those who have lost homes. Stand too with those who have endured the violence of the volcano. Protect them from further harm. Bless and give wisdom to officials who are helping in these emergencies. You do not cause these catastrophes, but you can always make something beneficial out of the pain. God, bless Guatemala. In Jesus name…"