Last week, we published a story about two Compassion International volunteers who were in Haiti when the earthquake hit. They each were only separated by a couple of feet when the earthquake hit, but only one of them, Dan Woolley, has been recovered from the rubble of the Hotel Montana. Woolley's story was widely covered because of his use of the iPhone app, Jive Media Pocket First Aid and CPR, which he used to nurse his wounds while he was under the rubble. The other volunteer, David Hames, a husband and father of two, is still trapped under the rubble. His wife, Renee, has been graciously speaking with media, drawing near to God, family and friends in her hour of need and we are honored to share this statement she released.
More than two weeks ago my husband (David Hames) was trapped in the lobby at the Hotel Montana in Port-au-Prince. My heart aches terribly as the days go by, but my faith tells me anything is possible–including that David is alive.

David was last seen about twenty feet from the elevator shaft where Dan Woolley was rescued, and two days ago they recovered the tripod he had been carrying when the earthquake began. The tripod is dusty but not broken.

Along with his tripod, we know David was carrying his backpack, and his pack probably had water and granola bars inside. We also know the rescue teams are still finding voids in the hotel. The ground opened up around Dan and David at the time of the quake, but even though they've rescued Dan and found David's tripod, we still don't know where my husband is. My hope and prayer is that he is in one of these pockets in the basement, using his resources to survive.

David Hames is my soul mate. He is kind and funny and his love for his family is unstoppable. David's heart is filled with joy for our two young boys, and they think the world of the man who gets down on the floor with them to wrestle, play tag, and play Star Wars. Our boys and I can't fathom life without David in it, and the other families waiting for word on their loved ones at the Hotel Montana can't fathom life either without their husband, wife, or child.

The Bible says, "Be still and know that I am God." He is our God who provides beauty and joy even in the midst of devastation, and no matter what happens, my faith in Him will not be shaken. Still I am asking government officials to continue searching the area where my husband's tripod was found to be certain that he is not trapped alive in a void. And I beg these officials to continue the rescue at the Hotel Montana until every missing person has been found.
Hames pastor, Kelly Williams, said that it isn't our job to speculate whether he is dead or alive, it is our job to support Renee and pray for a miracle. Today, I entreat anyone who may come across this post to do just that. Please join me in prayer and share your prayers for Renee, David, their two sons and the entire extended family and friends of David Hames.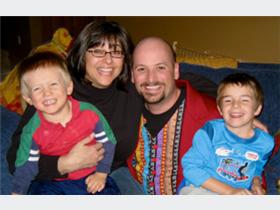 Heavenly Father,
We thank you first and foremost for being a sovereign God. One who is bigger than all our problems and every situation. We stand firm on our faith in you because that is all we have. You asked us to be still and know that you are God and so we are being still. We pray that you would give Renee the ability to be still in your midst, and to never lose faith in you. We thank you that you have strengthened her a great deal for this moment and I pray you would continue to strengthen her for not only her children's sake but for all of the wives and mothers whose husbands, sons, and daughters have gone missing as a result of the earthquake. We thank you for the love that you have created between Renee and David, the kind of love that bears all things, believes all things, hopes all things, and endures all thing. It is that established love that will carry them through this moment onto higher ground. It is also your love, which casts out all fear that will bring Renee, her children and their family and friends to divine peace in you. I do pray, that if it is your will, David will be recovered from the rubble and reunited with Renee and his children. You have proved that all things are possible the last few weeks of the search and recovery process in Haiti. So give search teams and relief workers a new burst of energy to be not weary in their well doing so that they may reap a harvest because they did not faint. Clear the paths that need to be cleared so that people may see their way through the rubble and recover more lives. Open the eyes and hearts that need to be opened so that all may see your way and continue to do your will. Meet Renee and her family at the point of their need and and attend to every concern of their hearts.
In Jesus' Name,
Amen