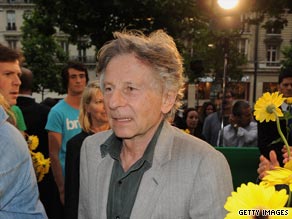 French authorities are bending over backwards today to defend Roman Polanski after authorities arrested the filmmaker on a 30 year old sexual abuse warrant. The point: He's an artistic genius. Frederic Mitterrand, the French culture and communications minister, said "he wants to remind everyone that Roman Polanski benefits from great general esteem" and has "exceptional artistic creation and human qualities." The problem: Polanski pleaded guilty in 1977 to having unlawful sexual intercourse with a 13-year-old girl – U.S. officials say he drugged and raped her – then fled to France before sentencing.
Perhaps sympathy and grace are called for here, but is the case for mercy based on Polanski's "exceptional artistic creation and human qualities"? In other words, is God's justice doled out differently from person to person, based on aptitude? We'd better hope not!
There's a similar story in the Old Testament when King David, at the height of his power and influence seduced and "stole" another man's wife, conceived a child by her, then had her husband, one of his loyal officers, killed. God did not overlook this injustice. He sent Nathan the prophet to confront David. Though he was King, he was in fact subject to the same laws of right and wrong that governed even the lowest rungs of society. There are not positional exceptions to God's standards. It is perhaps the first case in history of what we now call "The rule of law" – that justice to an outside standard applies to everyone irrespective of power or wealth or popularity or genius. Everyone is judged by the same standard, in God's eyes. As the Bible puts it, "God is no respecter of persons…"
Roman Polanski may have a case to appeal his sentence, but that case has nothing to do with the fact that millions of people respect him as a storyteller and social commentator. His only validation of grace is that God himself is merciful and judges none of us by what we deserve, and that he asks us to balance justice with mercy in our civic systems, just as he does in his "Kingdom of Heaven." If Polanski wants mercy, he needs to ask for it the same way anyone would, and not hide behind the scrim of his fame and genius.
Our right to prayer to God is anchored in this profound and simple fact: We all approach God on level ground. I'm no artistic genius and most of you reading this are not either. Still, we can come to God asking for mercy, no matter what we've done, knowing that his willingness to give mercy is not conditioned on our worthiness but on his willingness and on our appeal in Jesus' name.
If you need pardon today, come to God asking for mercy. He'll give it…
"God, I come to you asking for mercy. I don't deserve pardon, either because of who I am or what I've done. I know I'm in need of forgiveness merely because I can't help myself out of this fix. I appeal to your heart of love and compassion and I come in Jesus name knowing that he has taken my place and borne my punishment. That is my plea: guilty, but pardoned in Jesus' name. Thank you!"