Daily Prayer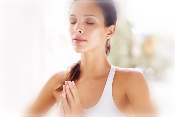 I pray when I am fearful.
I pray when I am in need.
I sing praise to You.
I lift up my hands, my heart, my soul.
Please take me beyond myself
and help me recognize the prayers of others,
from eyes raised skyward
to heads humbly bowed,
from whispers in quiet corners
to voices spiraling upward in song.
Our words may not be the same,
but our concerns and worries
and joys are so very alike,
expressed in songs, requests,
and silent cries to You.
– Sue Bradford Edwards, Prayables