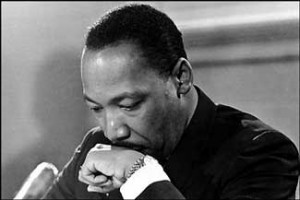 It was nighttime and Dr. King placed the phone down after receiving another death threat. "Listen, n#!!@r, we've taken all we're gonna from you, before next week you'll be sorry."
He got up out of bed and went into the kitchen. He made some coffee, sat down at the table and began to doubt his decision to lead the Montgomery bus boycott. He was afraid for his wife and daughter. He was afraid for himself.
Dr. King would tell the story years later, recalling the desperation he felt that night. He prayed out loud for God to give him guidance. He asked the Lord simply to tell him whether to go ahead or turn back. God responded. King says he heard an "inner voice" that told him to stand up for righteousness and truth.
Dr. King's eloquence is often quoted. You'll find hundreds of dissertations, sermons and letters written by King. He speaks of justice and righteousness. He speaks of God. But you don't find many personal prayers in the vast collection of his works. That night when faced with doubt, he asked God whether he should stay or go. The Lord answered, "Go!" And the course of history was changed forever.
What is that difficult thing that God tells you to do? How can the prayer life of Reverend Dr. Martin Luther King Jr. inspire you to do more than you think possible? Embrace his legacy and become a spiritually stronger you. Ask God a simple question in prayer. Like Dr. King, you'll hear God speak through your own "inner voice." The answer you seek will be crystal clear.
READ MORE and enjoy these features from the Daily Prayable!