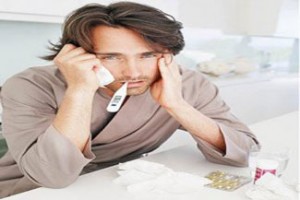 If you treat a sick child as an adult and a sick adult as a child, it usually works out pretty well. That's how it goes in the May household. "Buck up!" is the mantra Karen May repeats when one of her kids is sick. No babying her "babies." But last week when her husband woke up with flu-like symptoms, Karen went into full "mommy" mode.
P.J.'s – check. Bed tray – check. Thermometer, cherry cough drops, cool wet wash cloth. Check, check, and check. Mark May hasn't taken a sick day since the early nineties. Karen figured he deserved to be the little boy she never knew and heated up the Campbell's chicken soup with stars.
There's something about a brief illness that brings out the inner child in an adult. Somewhere between bad cold and serious medical problem, lies a place where you feel lousy and the best medicine is attention from a loved one. Karen indulged Mark for three long days until he felt like himself again.  When the aches, chills and nausea stopped, 'lil Mark snapped right back into being big Mark again, but with a slight change. Normally he's not the praying type. Yet, on the morning of his recovery, he said to Karen, "Thank God, I feel good again. I will never take my health for granted from this moment on."
Mark is a tough nut, and if he cracked even a little, it's progress. It's been one week and three days. Mark continues to thank God daily for his fully functioning body. Karen never thought she'd see the day when she'd hear her husband praying!
While his wife was nursing Mark's body, God was nursing his soul: New beginnings for the adult who gained spiritual perspective from being treated like a child. Thanks be to God for the wondrous healing of mind, body, and soul.
READ MORE and enjoy these features from the Daily Prayable!