Daily Prayer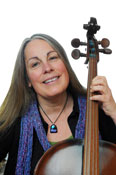 I want my life to ring,
to surge like a cello,
deep and moving
graceful and resonant—
the sound of Your voice
when you speak to me.
I hear little songs
in my mind
of Your promises.
They carry me
through each day,
and I dance.
– Miranda Claudius, Prayables
READ MORE and enjoy these features from the Daily Prayable!