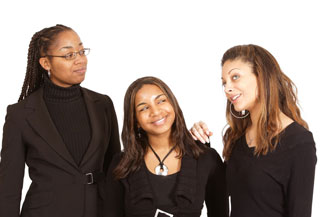 "I know it's nit-picky, but the actual quote is, 'If you build it HE will come.'" Marnie is talking about an article she read in the NY Times about a new invention that there's no known use for. She's disgusted when a credible news organization misquotes the line from the movie Field of Dreams.
Helen doesn't really care about the quote. She wants to know about the  useless invention. "It's a remote-control ball, but that's not the point," says Marnie. Yet for Helen, the ball is the interesting part of the conversation. She doesn't really care about the ethics of a journalist who didn't do his research.
Carla has a different take altogether. She saw Field of Dreams and remembered; Kevin Kostner builds a baseball field in an Iowa cornfield because he hears a voice telling him to do so. In the end, his deceased father (and others long gone) return. Resurrection.
Now that's an exciting talking point that doesn't often come up in casual conversation. Carla thinks, "Now's as good a time as any." She asks; "What do you think God has in store for us after we die?"
And this is how deep spiritual conversation happens among friends. One person is passionate enough about God and bold enough to talk about inner thoughts and yearnings.
Try it sometime. Ask someone how she feels about God, heaven, or prayer. Take the dogma and theology out of the big questions for the sake of meaningful conversation, without judgment. Allow yourself to be open to the beliefs of others. If you build it, they will come.
READ MORE and enjoy these features from the Daily Prayable!