1 of 10
NEXT →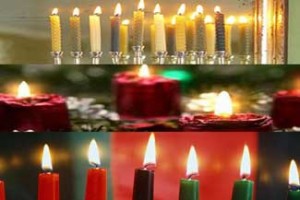 We do love a great symbol, don't we? Whether it's Santa, a menorah or a color combination that says "Celebrate!" It's worth taking a second look at the meaning behind the message: Don't forget the G-O-D in "good times."
There's a story to be told for each of the religious holidays. Christmas may be the ultimate birthday party, but the birthday boy is bigger than the meal on the table or presents under the tree. Hannukah remembers a time when oil for one night lasted eight days, yet we are blessed with 365 days of light. And Kwanza marks the celebration of family, community and culture, values that are treasured way beyond the week long observance.
It's clear that spiritual wellness needs to be considered in the month of December. Here's a cute gallery of Santa vs God mashups that everyone can relate to when keeping their God-centered holiday balance.
CONTINUE → God in Residence
READ MORE and enjoy these features from the Daily Prayable!