Daily Prayer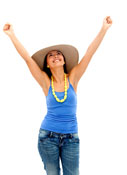 This is my day
of unlimited chances.
A day of uncommon favor
and unending blessings.
When Your favor
and blessings overtake me,
my change will come.
I am ready and prepared
to receive my portion.
It ís my turn to prosper.
I don't fear today,
for fear tolerated
is favor unsure.
I experience Your goodness.
I have unleashed my faith
and I am amazed.
This is my day
of miracles.
I receive it! I receive it!
Brenda Scott, Prayables
READ MORE and enjoy these features from the Daily Prayable!