The soulful voice of Yolanda Adams brings inspiration to all who listen. In "Never Give Up," we're motivated to stick with it, and turn to God for comfort and guidance. You'll enjoy this recording of a performance to remember. Prayables picks Yolanda Adams as an artist we love!
I love Yolanda Adams. Never Give Up no matter how hard life gets just keep on going.
Poohsister8
the song inspires me to move forward … thanks
12potet
I absolutely love this song!! Definitely a song for me in this season of my life.
teesearcyblack1973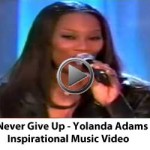 READ MORE and Enjoy these features from the Daily Prayable!