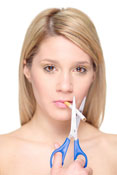 Today I did not do
that thing I should not do:
That thing I've allowed
to define me,
for far too long.
I tell myself stories about it.
"It keeps me thin."
"I can't resist it."
Today I realized
those stories are lies,
and I didn't listen.
I know You are here,
my support and my shield,
infusing me with strength
I do not possess.
I thank you.
Today, stay here beside me.
Help me tomorrow,
and the day after that
to say no to cigarettes
again and again, ceaselessly,
because I value
the life you've given me,
and I do not want to abbreviate it.
–Lori Strawn, Prayables
READ MORE and Enjoy these features from the Daily Prayable!