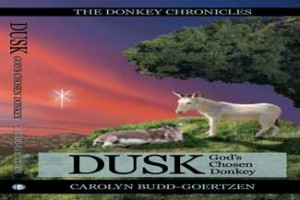 It was a simple request that turned complicated. I received an email from Carolyn, an author who has a book to promote.
"I have written a book which has just gone to print. It was given to me in a dream–it is the story of the Holy Family told by the donkey that lived with them. Shalom and God Bless, Carolyn Budd-Goertzen"
Carolyn sent me the book and I began to read it. Here's where it gets messy. I couldn't get past the first few pages. It's the story of the birth and life of Jesus set in ancient Israel with biblical characters acting – well for me anyway, out of character.
FULL DISCLOSURE: this is not my narrative, I'm Jewish. So, to be fair to this anxious author and her work, I got two Christian writers to review Dusk: The Donkey Chronicles. Both offered very positive reviews. Tricia Lothschultz works for the Passionists organization and is pursuing a Master of Arts in Ministry from Creighton University. She loved the book and can't wait for the next book in the series of three.
Jody Bowden was a little less enthusiastic, but admired the way the story did a good job of placing the reader on the scene during the birth of Jesus. Jody is a Christian businesswoman and clearly has an appreciation for Christian literature.
We all have a story to tell and sometimes you just need the right audience. I love the way the author Carolyn Budd-Goertzen followed her dream (literally) to re-tell the story of her Savior from a new perspective. Kudos to her and all the writers who use the talent God gave them to open the eyes and hearts of humanity.
READ NOW the complete book reviews of Dusk: The Donkey Chronicles.
Find out more about the book and visit Carolyn's website at www.CarolynBuddGoertzen.com
Buy the book on Amazon.com!
Susan Diamond, Publisher – Prayables
READ MORE and Enjoy these features from the Daily Prayable!