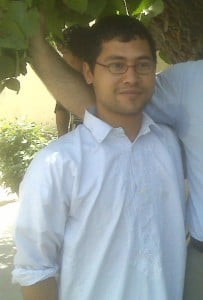 Twenty-three-year-old Christian convert Shoaib Assadullah asks your prayers. Jailed in Afghanistan since last year, his crime is that he converted to Christianity, then shared his newfound faith with friends.
A letter recently smuggled out portrays a young man in deep despair, suffering beatings and constant threats from other prisoners.
Following the release of fellow Afghan convert Said Musa, pressure is now being put onto Afghanistan to release Shoaib. The Taliban was removed from power nine years ago, yet there are many Islamic conservatives still in the government. The Afghan constitution is self-contradictory — allowing for religious freedom — yet also allowing matters to be tried under Islamic Shari'a law, which does not allow for religious freedom.
Under Shariah Law, persons leaving Islam are considered apostates and are subject to the death penalty.
Assadullah was arrested in Afghanistan in October 2010 for giving someone a New Testament. At that time he was threatened with death or a 20-year prison sentence (with the death penalty being more likely).
His trial had been set for January 4 but international pressure led the Attorney General of Afghanistan to intervene. Due to this intervention, Assadullah was not sentenced, but sent back to prison where he is still waiting.
He is 23 and his family has tried all they can to secure his release. His mother died while he was in prison, and he was not allowed to see her or go to the funeral (which is contrary to Afghan law).
In the letter smuggled out of prison, he told of being pressured to deny Jesus – and he would be released.
"My name is Shoaib Said Assadullah. I am 23 years old. For the last four months I have been imprisoned in Qasre Shahi prison, Mazar-e Sharif for the crime of apostasy, which means I've changed my beliefs.
"Not only has my freedom been taken from me, but I am undergoing severe psychological pressure. Several times I have been attacked physically and threatened to death by fellow prisoners, especially Taliban and anti-government prisoners who are in jail.
"These assaults on my human dignity have affected me negatively, close to the point of death. My case is supposed to be sent to the court shortly, because the prosecutor has the right to hold a case only for 30 days. The court's decision is most definitely going to be the death penalty for me, because the prosecutor has accused me under the Clause 139 of the Afghan criminal code which says, 'If the crime is not cited in the criminal code, then the case has to be referred to the Islamic Shari'a law.'
"Not seeing my mother for the last time was more painful than anything else. I would like to add that freedom is a gift from God. This means that we have to respect human freedom and dignity.
"I request that you follow my case.
"Sincerely,
"Shoaib"