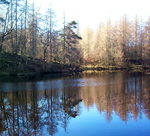 The world is filled with bright ideas,
innovative solutions, and great opportunities. The biggest challenge always
lies in finding your own motivation and willingness. In Eastern traditions,
there's an old expression about the journey to enlightenment. It's been said
that if you don't seek your total liberation of heart and mind with the
passion, focus, and conviction of a man with his hair on fire looking for
water, then don't bother!
On the other hand, remember that it's okay
to stay exactly as you are. There's no need to change, unless you feel the need. There's nothing "wrong" unless life
doesn't feel right. Listen to your innermost spirit and ask yourself: Is there more to who I am? Is there more
that I have yet to share?
"More" isn't about what you have or what
people think–it's being soulful, mindful, and full hearted. It's about being
more you. At times, your version of
more will be doing less and working
harder to simply accept yourself as you are. The end of Inspiration Deficit
Disorder comes from action, but what that action is will be different for every
person. Some people reading this will say, "Yes! This is the time to slow
down," and others will say, "Yes! This is the time to speed up!" The next step
is all about what your inner wisdom tells you. It concerns fully embracing who
you are and making positive new choices now.
What choices are you going to make today for positive change in your life?
Excerpt from Inspiration Deficit Disorder.