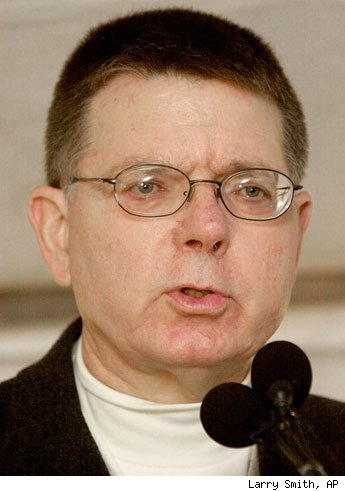 You fill in the blanks. And many are, with varying answers. Here's Bill Donohue's take:
"The Catholic League unequivocally condemns the killing of serial killer, Dr. George Tiller."
Okay…Donohue goes on to condemn what he sees as the "politicization" of the killing by liberals, including those linking to the medley video of Bill O'Reilly labeling "Tiller the Baby Killer" as a hit man who charges $5,000 to execute a baby. The usual back-and-forth, I guess. Bill concludes with this, however:
"Perhaps the ultimate politicization is the decision by U.S. Attorney Eric Holder ordering federal marshals to protect 'other appropriate people and facilities around the nation'."
Huh?
Meanwhile at PoliticsDaily, Melinda Henneberger, a pro-life Catholic, has one answer from Tiller's lawyer, Dan Monnat:
"It's really, really tragic," Monnat said in a phone interview. "Despite the fact that his clinic had been bombed and despite the fact that he'd been shot before, and put on trial…he was always willing to get back up the next morning and serve his patients, who were his first concern. He'd had patients move in with him and his wife until they could deliver. You can't imagine a more dedicated professional, and his view — Why did he persist? — was, "If I'm not there to do it, who else will do it?" There was only one other clinic in the country doing this; all the rest have been scared away by protesters and terrorists."

Yet he was never really afraid, Monnat said — or never showed it, anyway. "I never detected fear in him," he said. "He knew what he was doing was morally right, and right under the Constitution." He drove a custom-made bullet-proof SUV, had an elaborate security system at his clinic, security around the clock and usually, a bodyguard at his side. His family never expressed fear either, his lawyer said. "He had a wife of 45 years who's always supported him, and three daughters and a son who were behind him 100 percent." Now that the worst has happened, Monnat said, his family's greatest hope is this: "They don't want this to be politicized." Kind of amazing that after suffering this kind of loss, they still think that's a possibility.

In Witchita, Monnat said, "the whole town is grieving for a man who stood up for what he knew was right and who stood up for women. He was the 100-percent real deal, committed to rights that are not very popular with a lot of people."